Sept. 14, 2015
Rachel Librach
[email protected]
While physical construction crowds UCCS, technology advancements have been underway to add to the school's growth.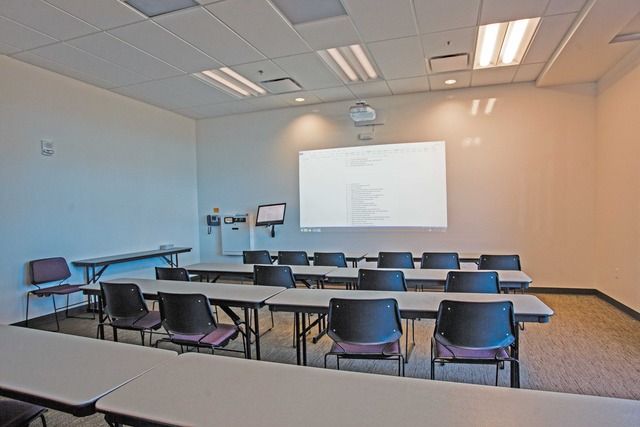 In the spring semester, UCCS was given several software and hardware upgrades, now supports four gigabyte Wi-Fi and has "smart walls" incorporated in classrooms.
One of the updates consisted of upgrading to a new Wi-Fi system for students and faculty. Last year, construction in Denver caused the primary internet link to be severed by construction crews.
"We are working on another backup solution where you won't see any down time at all, and that should be implemented within the next month or two," said Greg Williams, director of Networks and Infrastructure for IT.
Williams expanded on wireless upgrades in the dorms.
"Over the summer, we replaced some of the switches in the dorms which now provide more power to the wireless access points, which in turn, provide better signal coverage."
Kirk Moore, director of Computing Services, believes that behind the scenes upgrades won't draw much attention from students, but are still critical for the safety and functionality of campus.
"These upgrades allow systems to perform better and provide more security," Moore said in an email. "Usually users do not find this type of work too exciting to discuss, but it's absolutely important to keep our environment running in the best shape possible."
Moore said there were over 4,000 devices connected to the wireless network the first day of fall semester.
"It is amazing to see the number of mobile devices joining our wireless network. People love and constantly use their smart phones and tablets. I do not see that decreasing anytime soon."
Moore said additional physical technical upgrades have taken place in several classrooms in the new Cucharas dorm. The new "smart walls" provide an interactive, touch screen surface from "short throw projectors" that mount on the same wall they project on.
Moore explained that this not only removes the annoying glare conventional projectors cast on their users, it allowed for notes on the board to be drawn by hand, saved and played at a later date.
"A person can write on the wall with a special pen or even with their finger and allof the content written on the wall can then be captured and played back later. Now hand drawn notes from boards can be shared," he said.
Randy Nozawa, manager of Academic Support for IT, also believes innovative technology like the smart wall is beneficial for teachers and students.
"Because of the focus of these rooms as group breakout rooms, they are open to small classes led by a faculty member or as an interactive workspace for groups," said Nozawa in an email. "Training and support for these rooms will have a huge impact on how effectively they are used."
Nozawa observed that one of the challenges with the installation of this technology is the training necessary for faculty and students to utilize its benefits.
According to Williams, it is not the complexity of the project that slows projects like these down, but the time it takes them to get things up and running.
"Generally these types of larger projects, like the four gigabyte Wi-Fi, take six months to a year in order to move forward. There are a lot of technology demands, so it takes a lot of people to run everything and implement new technology," Williams said.
Williams and his team have also been working to implement a new communication system called WebEx.
"WebEx is a conferencing solution, so pretty much any student, faculty, or staff member can log in and they have immediate access to virtual meetings with people," Williams said.
"This will allow them to do web conferences, have one on one meeting with students or professors, they could do screen sharing of presentations, people could call in over the phone and you could have meetings that way."
With the increasing flow of innovative ideas and technological advancement, Moore sees the future for the campus to be centered on efficient technology.
"One of our next progressive advancements we'd like to see on campus are tablets and laptops streaming to projectors wirelessly, allowing professors to walk around the room and lecture from anywhere in the room," he said.