19 February 2019
Eric Friedberg
    Scranton, Pennsylvania's Tigers Jaw recorded their newest album, "Spin," in 2017 – the band's first album without primary writer Adam Mcllwee in the mix.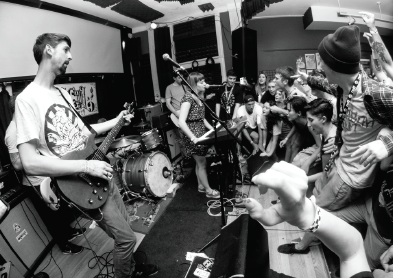 Without flinching, Tigers Jaw Ben Walsh vocals/guitar and keyboard/vocals Brianna Collins recorded their new record in a month.
    Walsh now taking the lead as songwriter, the album is a stream of subconscious thoughts: something that can be described as equal parts Fleetwood Mac equal parts Brand New.
    Tigers Jaw will perform a show at Denver's Summit Music Hall March 21 with Scene Friends, Balance and Composure and MewithoutYou. The show starts at 7 p.m., and tickets will be $40 at the door.
Interview with Ben Walsh:
    What are Tigers Jaw's plans for 2019?
    "We released our most recent album, "Spin," in spring of 2017, and since then we have been on tour more than we have been home. So this year we are taking a little break from intensive touring to focus on writing a new album. We are still doing some shows, including this run with MewithoutYou and Balance and Composure, a few acoustic performances in Mexico and Slam Dunk Festival in the UK." 

    How did you guys get picked up for this tour with Balance and Composure and MewithoutYou?
    "We all have the same amazing booking agent, and we are all from Pennsylvania, so we've been friends for a long time. We were offered a few Festival dates (Boise, ID andFargo, ND), so we turned it into a short run that includes a lot of cities/states we have never played before! The timing of the run coincided with Balance's plans, so we decided to merge the Denver show with theirs." 
    You guys, Balance and Composure and MewithoutYou all played in the same music scene starting up. Do all you guys know each other well? How does it feel to all be on tour with these bands?

    "We have all known each other for quite a while and yet somehow we have not done extensive tours with either band. There is definitely a great camaraderie between all of us, so I'm very excited. It will definitely be bittersweet because the shows with Balance and Composure will be their last shows, but we are honored to celebrate their career with them." 

    What attracts Tigers Jaw to Colorado?
    "Colorado is beautiful and scenic, and it also has some really great music venues. My favorite Colorado moment playing in the band was at Riot Fest in 2016, we were sound-checking and had the clearest view of the Rockies in the background."
    I heard this might be Balance and Composure's farewell tour. Does this make you reflect on how far Tigers Jaw has come? And what direction the band is headed in next?
    "Yeah, it definitely puts things into perspective. We have been a band since 2005 and have seen so many friends' bands come and go. Keeping something going for that long is such a crazy accomplishment, but for us it's what we want to be doing. It is fulfilling and rewarding. We get to be creative and travel all over the world. All of my closest friends I met through being in Tigers Jaw. Next up for us is to write and record a new album, this time with full time members Teddy Roberts and Colin Gorman. I think having their input will inject a refreshing energy into the songs and challenge Brianna and I to explore new ideas and inspirations."