19 February 2019
Quinita Thomas
    There is more to rock climbing than just plastic walls with foot holds and hand holds. In fact, there are different levels or grades people can participate in based on their climbing preference.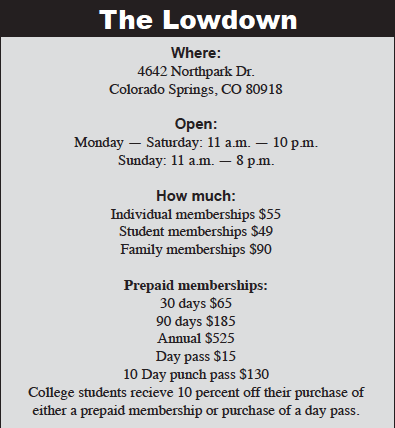 The Springs Climbing Center (SCC) is all about finding one's comfort level, and is more than available and welcoming for students at UCCS, as it's only a short drive on Garden of the Gods road.
    Lex Sanchez is one of the owners of the Springs Climbing Center. According to him there are two purposes for climbing either indoors or outdoors. "Indoors is mainly for training, to get you ready for your projects outside, and to get you stronger," said Sanchez. "Our gym has different routes that you can choose from."
    "We have a large group of people that we climb with. From people who have been climbing for a couple of years, to some of the best climbers in the area," said Sanchez. "You want to climb with people who are in the same grade as you. The grade is dependent on climbing experience."
    In addition to the Springs Climbing Center having people of all ages and climbing experiences, one of their climbers, Megan Mascarenas, a sophomore chemistry major, competes whenever she can.
    "I won two of the world cups that were in places such as Paris, Germany, China, Austria, and Switzerland," said Mascanares. "It gave me a new excuse to see different parts of the world and meet new people." Sanchez says this climber not only has won the national climbing competition in 2016-2017, but that.
    Mascaneras said she might have retired and has taken a year in a half break from climbing, and doesn't know when or if she will climb again. "Climbing is a really cool sport, because no matter what level you climb at, there is a place for you, since it is an infinite progression," said Mascaneras.
    They also went on to compete in the World Cup, which they have won twice, and took fourth place at the World Championship in Paris, France in 2017.
    "I started climbing at the age of two," said Mascarenas. "Climbing involves a lot of problem solving, and that's what I like most about it. It requires figuring out a sequence."
    "I grew up climbing at SCC. I liked the community the most, because no one there had anything in common except for climbing. We were all misfits."
    According to Sanchez, there are different grading scales for both ropes and bouldering. For ropes it starts at a 5.5, one of the easier ropes to climb. As a climber continues to improve, he or she can work their way up to the highest grade on ropes, which is a 5.15.
    When it comes to bouldering, however, the scale is different. "The scale for bouldering starts at B0 and goes all the way up to B17," said Sanchez.
    The difference between ropes and bouldering are as follows. When using ropes, the climber is attached to a rope that is connected to their harness, to the top of the wall. In addition, there is another person on the ground who will be belaying the climber, and is not likely to fall. Bouldering is climbing without either a rope, and is one of the fastest-growing types of climbing.
    The center was founded in 1992 by Eric Christenson, Mark Van Horn and Rick Guyman. During this time, indoor rock climbing was not widely known and was experimental. Today, the center is a pioneer of rock climbing.
    The first indoor climbing wall was created in England in 1960. Their climbing wall was constructed in a school's new gym and used bricks and stone for hand and foot holds. This structure even had a top-rope bar.
In 1961, Colin Murtlock created an indoor climbing wall in the sports hall at Royal Wolverhampton School in West Midlands. He glued wooden slats to the wall and used them to train finger strength and stamina.
    Indoor rock climbing did not arrive in the United States until the mid 1980's. The first climbing gym located in Seattle, Washington was renovated from an old factory.
    After Metolius began making plastic holds, it became easier for gyms to change routes along with creating lighter climbing walls.
         For Sanchez he prefers sports climbing. He says it is because sports climbing allows folks to have more freedom while climbing. Students can go to the Springs Climbing Center's website and purchase a membership online.