"Angus beef patty, lettuce, tomato, red onion and pickle on challah bun." The Clyde's Original Hamburger was one of the most popular items on the menu at Clyde's Gastropub, an on-campus tavern style restaurant located on the lower floor of the University Center that has become one of UCCS' beloved spots for meals, drinks and socializing.
But if you are headed over there right now to quiet your growling stomach, you should rethink your plans. To the disappointment of many, Clyde's has closed for the rest of the fall semester.
Once a bustling hotspot of campus socialization, there is now a small white sign in front of the deserted restaurant announcing its closure. Stacked chairs and empty tables have replaced the lively faces of students.
What happened to Clyde's? The coronavirus happened.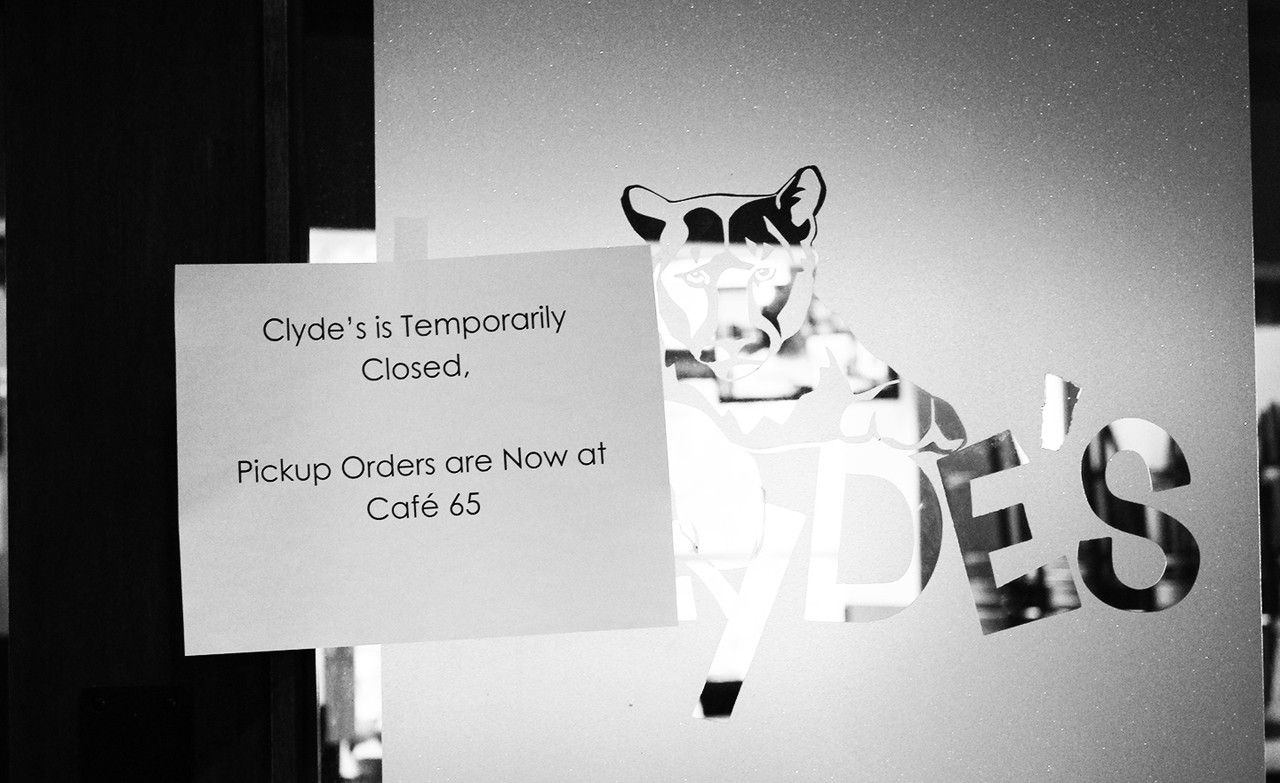 Many students are spending less time on campus due to remote classes and social distancing requirements. These factors impacted the number of customers for the restaurant and Clyde's ultimately had less foot traffic this semester.
Clyde's is not alone in facing the challenges presented by the pandemic. Similar scenarios are playing out across the country, as numerous restaurants throughout Colorado and the nation have been impacted by the coronavirus. According to a recent Yelp Economic Average Report, "Between mid-June and July 10, permanent restaurant closures [in the U.S.] had risen to 72,842."
Fortunately, Clyde's is only closed temporarily and many of the beloved items on their menu are still available on-campus. Customer favorites — such as the Clyde's Original Burger and the Bacon, Lettuce, Tomato and Avocado Sandwich — can be ordered on the UCCS Mobile Order app and picked up at Café 65.
"Clyde's is a unique operation and is well-loved by campus," said Executive Director of Auxiliary Services Robin Margolin.
As soon as there are more students and staff back on campus, Clyde's will be able to reopen. As of now, Clyde's is scheduled to reopen at the beginning of the spring semester, but this will depend on how classes are set up in January.
Due to COVID-19, all dining halls on campus now require staff to directly serve students, so many of the student employees who worked at Clyde's have been transferred to the other dining halls and cafés around campus. To ensure safety, self-serve buffets are no longer in use on campus.
Margolin said that the temporary closure of such a beloved campus hangout spot was disheartening. "We are very sad to have to close the physical space and look forward to reopening this favorite gathering spot as soon as campus community traffic can support it. In the meantime, we are very happy to be able to provide the campus favorites from the menu."
Clyde's typically served sandwiches, hamburgers, wings, salads, sodas and alcoholic beverages, regularly hosted trivia and game nights and had a lounge where students could view sports games.