Brandon Flanery and Caitlyn Dieckmann
[email protected], [email protected]
On March 6, at 8 p.m., the University of Colorado (CU) Boulder Alerts sent a message to students, asking them to avoid the area of 10th and Pennsylvania as Boulder Police responded to a large party. It warned students, "People in the area could be subject to arrest and CU Sanctions."
Content on social media shows several violent acts by students, including throwing bricks and rocks at police, according to a post by CNN. Marc Sallinger (@MarcSallinger) with Colorado 9 News also retweeted a video of partygoers flipping a car over.
Another Twitter post from Jack Henrique (@JKHQ) shows a video collage of collected footage from Saturday's party which shows students shooting off fireworks above the crowd, smashing in a car window, fist-fighting, jumping off cars, destroying and taking down street signs, climbing and hanging onto a fire truck, police officers arriving on scene and officers fleeing the scene after being chased by the crowd.
According to the Boulder Police Department's Twitter (@boulderpolice), three SWAT officers were struck with bricks and rocks and suffered minor injuries.
CU Boulder student newspaper's Breaking News Editor Henry Larson said of the incident, "It happened on University Hill where all the frats are annexed." Larson is a first-year student at CU Boulder studying journalism.
CU Boulder Alerts continued to send out information to students throughout Saturday night. At 9:42 p.m., a new alert said, "We are aware of a large party on University Hill … and allegations of violence toward police officers responding to the scene." The message then condemned the conduct, explaining that CU Boulder would not be tolerating any acts of violence or property damage by CU students.
According to Larson, Boulder Police Chief Maurice Harold said there was anywhere between 500-800 people in attendance.
CU Boulder Alerts also reiterated the university's compliance with COVID-19 public health orders and any students violating such orders will be subject to discipline under the student code of conduct.
On Sunday, CU Boulder Chancellor Philip DiStefano addressed the University Hill "large-scale" disturbance.
DiStefano wrote, "Last night, hundreds of unmasked students flooded the University Hill neighborhood as part of a large party."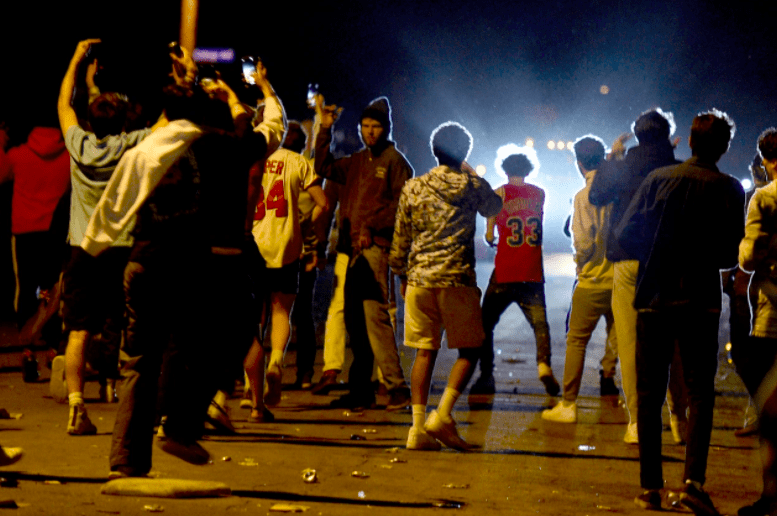 DiStefano addressed those in attendance at the party, explaining their behavior to be an embarrassment to themselves and the university, and their actions violated many CU and community standards.
Along with public health experts, DiStefano advised students in attendance to quarantine immediately and that any students found guilty of violating codes will be subject to disciplinary action.
DiStefano also reiterated heavier sanctions as a result of the violations, stating, "Any student who is found responsible for engagement in acts of violence or other egregious acts connected to the events—Including damage to property and not dispersing when ordered by police—will face serious sanctions up to expulsion from CU Boulder without the possibility of readmission, and may also face criminal and civil sanctions from the city and the county."
Boulder District Attorney Michael Dougherty released a statement in response to the incident. Dougherty said, "The District Attorney's Office will work closely with the Boulder Police Department to determine the identities of the people who damaged private property and assaulted first responders…"
Larson spoke on the individuals in attendance at the Hill, saying there are two degrees of people. He said, "[There are those] who went [and] think that it was fine, that it doesn't deserve the response. Maybe they think differently, you know, coming out of it in the morning. Maybe they're a little bit hungover and they realize they've done something wrong."
Overall, Larson spoke of the CU student community saying, "For the most part, I'd say students really are disgusted… It's just been pretty much frustration, anger, disappointment from students."
Out of the three CU institutions, including University of Colorado Colorado Springs (UCCS) and CU Denver, CU Boulder has the highest number of students in attendance, with over 33,000 students.
Larson said, "It's a large state school. In any institution such as this, you're going to have this expectation that there's going to be parties. There's going to be big community interactions."
He continued, "If you have 30,000 students attending a school with the expectation that they're going to be having big social gatherings, that is a consequence of in-person learning, and I think that's something that the university shares some responsibility towards."
Larson also shared that if the university is insistent upon bringing students back on campus, there is already that expectation that the campus is a setting where large gatherings take place, but this cannot happen because of COVID. Thus, he believes there is a connection between this large gathering incident and the current pandemic's effect on students.
Along with the institution's size and long-standing reputation, CU Boulder is ranked among the top 10 party schools, according to the Princeton Review.