February 20, 2018
Bryanna Winner
    Former UCCS basketball player Derrick White returned to Colorado Springs on Feb. 17 to retire his jersey in Gallogly Events Center.
    The jersey ceremony is the first in the history of the men's basketball program. White, who played as No. 14 at UCCS, returned for the ceremony during the NBA All-Star break.
     Jeff Culver, head coach of the men's basketball team, thanked White on behalf of "the Mountain Lion family" for his contributions to the university and to the basketball program.
    "We appreciate you taking the time out tonight along with your family to come out, catch a game and allow us to give you a token of our appreciation, as well as getting No. 14 up in the rafters," said Culver.
    White, who plays professionally for the San Antonio Spurs, expressed his gratitude for the university as well.
    "I just want to thank the coaching staff for giving me the chance to come here and play. I also want to thank all my teammates, my family and the fans," said White.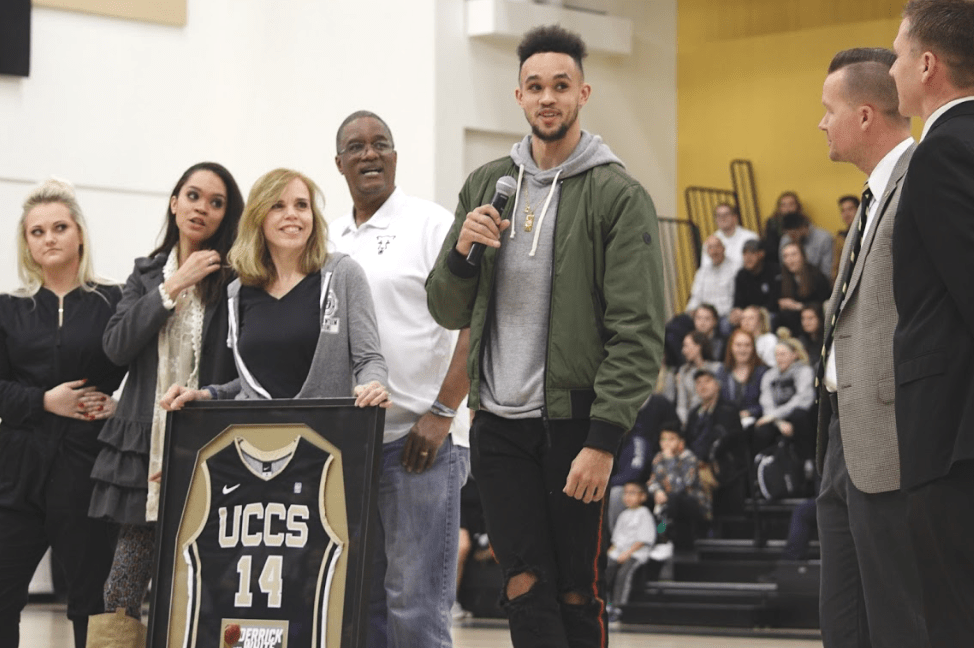 White walked over toward the entrance to the court and pulled down the curtain to reveal his retired No. 14 next to the scoreboard.
    After his junior season in 2015, White transferred to the University of Colorado at Boulder and earned All-PAC 12 honors. In the 2016 NBA Draft he was chosen No. 29 overall by the San Antonio Spurs.
    In his three years at UCCS, White scored 1,912 points, holds the records for assists and steals, was a two-time All-American and led the Mountain Lions to their first RMAC Championship where they defeated MSU Denver.
    The ceremony commenced prior to the men's basketball game against MSU Denver, the Mountain Lions won 88-81. The win places UCCS at No. 7 in the RMAC.
   Prior to the game, the  night began in Berger Hall, where White signed autographs for children, students, former teammates and Clyde. Fans were given a small poster that they were able to get signed by White, as well as their own basketballs.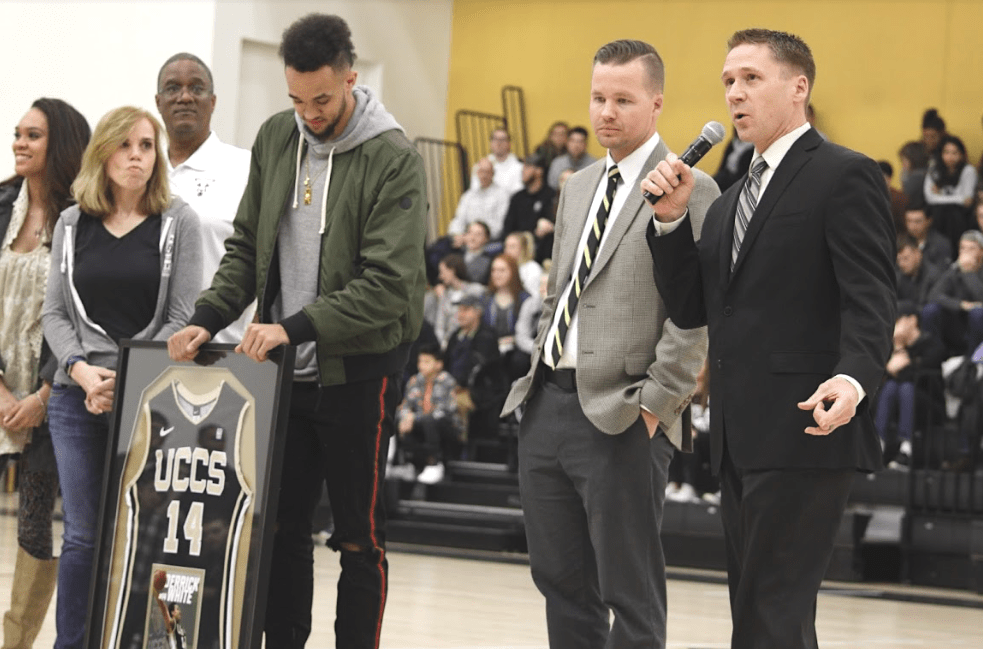 After the signing ended, fans went into Gallogly to watch the women's basketball team's game against MSU Denver, where they lost 57-70.
   Athletic director Nate Gibson brought out a framed jersey and picture from when White was a Mountain Lion before White and his family went to center court.
    During the 2018-19 basketball season, former basketball player Alex Welsh will also have his No. 25 retired.