September 05, 2016
Dillon Taunton
     Staying healthy and happy is a constant cycle.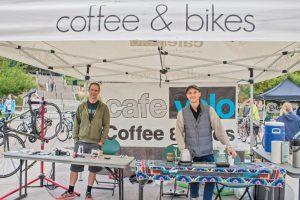 The eighth annual bike jam took place on Sept. 1 at El Pomar Plaza. The event, sponsored by the Offi ce of Sustainability, included food, prizes and biking workshops, which included a flat tire class and mountain bike rides sponsored by S.O.L.E.
     During the first hours of bike jam, people biked into the El Pomar Plaza to eat free breakfast sponsored by The Flying Carrot.
     The meal included a breakfast parfait with homemade granola and squash bread. The purpose of bike jam is to create an environment of celebration according to assistant sustainability director Kevin Gilford.
     "We come out here to celebrate everything related to bicycles. They are by far the most efficient mode of transportation, and so we celebrate that," said Gilford.
     Faculty also enjoyed the event and the sense of community it offers on campus , according to English professor Alex Ilyasova.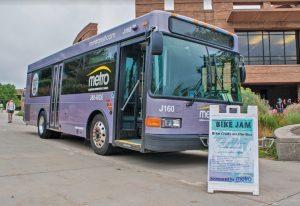 "Biking is good; it makes you happy, it helps with parking and builds a sense of community," said Ilyasova.
     Around 150 people are usually expected at the event, including this year, according to Gilford. Food is usually prepared for 300 people for breakfast and lunch.
     After a hearty lunch consisting of bike blender smoothies and farmhouse pesto pasta, the event featured a BMX stunt show and several other bike related activities.
     More information on future events with the Office of Sustainability can be found at uccs.edu/~sustain/.