September 05, 2016
Dillon Taunton
No one likes seeing a tiny manila envelope under their windshield wipers, but especially not those who have to distribute them.
Parking and Transportation Services will implement license plate recognition technology starting next semester. The new ticketing system is 20 times more efficient, as far as distributing parking tickets is concerned, according to Jim Spice, executive director of Parking and Transportation Services.
The new system cost $57,000 and was funded in part by students, parking permit sales and visitor parking fees, according to Spice.
License plate recognition technology uses a camera mounted on the roof of a car to read license plates. The technology indicates whether or not a student has paid for parking and any unpaid tickets, Spice explained.
Both permit and visitor parking areas will use the new technology.
"Instead of entering a stall number or receiving a receipt, you will see a 'pay by license plate number.' This pay station will then talk to the license plate recognition company in real time and upload your plate info [information] to the ticketing car to tell you if you have paid for parking," said Spice.
If a student has not registered a license plate, then the system sends out an audible signal to the operator to ticket that car. The new system also keeps track of a car's past unpaid parking violations, according to Spice.
"People that owe $100 or more in unpaid tickets are placed on a boot list. Those cars will be recognized by the system and booted until the tickets are paid," said Spice.
While the technology is advanced, it also is capable of making mistakes.
"The system has issues mixing up O's and Q's, as well as M's and W's. It also has issues with bumper stickers," said Spice.
These issues are noticeable by the operator of the system, but if a car is ticketed by mistake, then the parking employees take a photo of every license plate ticketed so that wrongfully ticketed persons can protest the fine.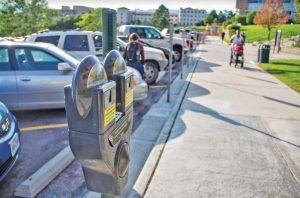 Even though the system will improve efficiency, student employees that currently work at parking services will not lose their jobs when the system is implemented.
"Some agencies only have one person in the vehicle. We don't feel that is safe, so we will have a second enforcement officer in the car writing tickets. Our third student enforcement officer will be enforcing some of the difficult-to-access areas of campus," said Spice.
This will ensure that all parking enforcement positions are retained, according to Spice.
With this new system, students will be able to register the license plates of multiple vehicles.
"We allow up to four vehicles per person. We realize students may have their car in the shop or your roommate may want to take that vehicle, so we wanted to be lenient in that regard," said Spice.
The new parking system also has safeguards to prevent students from parking several cars registered to the same person on campus at one time.
"The system is smart enough that when it sees the first registered car it knows it has been paid for; when it sees the second it realizes it is registered to the same person, so it gives that car a ticket," said Spice.
Once this new system is fully implemented, the current hang tag permits will become obsolete. After it is officially in use, students will register for parking online instead of going to Parking and Transportation Services to buy a hang tag permit, according to Spice.