One of the best ways to learn is to experience it personally. The English department fostered this connection over the summer with a 12-day trip to England.
Nineteen individuals experienced England's most famous destinations from the Jane Austen's home in Chawton to Westminster Abbey and The Globe Theatre. From May 23 to June 3, they made personal connections with the history around them.
Drew Johnson, an English rhetoric and writing major, was struck by the age of everything the group saw. Johnson, a senior in his last semester when he went on the tour, spoke about the experiences that made his last semester so worthwhile.
"It was a very surreal experience. I've never left the country before, so seeing a new place with different architecture and feeling how old everything was there was really surreal and really cool," he said.
Something that Johnson took away from the experience was a sense of connection to the people who he traveled with. "I will always look back on those people very fondly, because we had all had a good time together. It was such a snapshot in time. I'll never be able to share those times, those emotions or those feelings with other people," he said.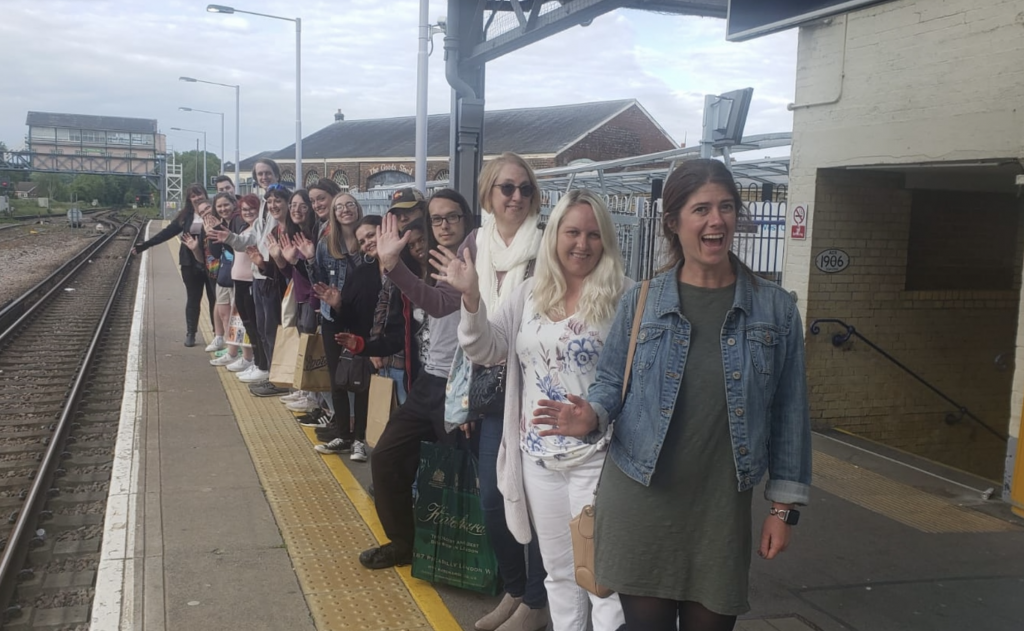 "We got to wake up every morning and we got a history lesson of everything we were doing," Johnson said. "We always had context of everywhere we were going; we never walked somewhere blind. That was really nice. We knew what we were doing and why we were doing it."
Annie O'Keefe, a senior English major with a focus on secondary education, shared that one of her favorite experiences was being able to see a performance by the Royal Shakespeare Company. She recalled being impressed by the performers, the stage and the artfulness of the entire presentation.
"One of my favorite things I learned about was the Alfred Jewel. Shannon Ritchey who is a graduate student that went on the trip, is a medievalist, and she and I were able to view the single most famous archaeological object in England: the Alfred Jewel," O'Keefe said.
"I had never heard about it, but Shannon was so excited to see it, and she told me everything she knew about this spectacular piece of English history and why it is so famous."
According to O'Keefe, the Alfred Jewel is significant due to its ties to the history of English royalty. The jewel is over one thousand years old and depicts King Alfred the Great, king of the Saxons, who was famous for encouraging education by translating texts from Latin to English.
After the trip was canceled in 2020 due to COVID-19 restrictions, the English department had not planned another study abroad trip until earlier this year. Rebecca Posusta, senior instructor of literature, was a chaperone for the tour in England this summer. Posusta has previously lead study abroad tours in 2015 and 2018.
"Two years of COVID went by, and there was really no travel," Posusta said. "Then, a professor in English, Dr. Helen Davies, … contacted me and said, 'Hey, are you still doing study abroad? I would love to do a trip with you!'
"So, we put together a trip. We met in May and had 17 who travelled with us. It was a wonderful experience," she said.
One of the things that Posusta remembers most is the enlightening experience students can have as they interact in spaces that have so much historical and literary significance. She believes this study abroad trip is enriching for students because it allows them to connect with real-world concepts they have only ever learned in a classroom.
"Our students are really desperate for that experience; to be able to be in someplace new and experience something new, but also to make those connections with the historical and literary past," she said.
Something that Posusta found most rewarding was when students were able to connect with the history that surrounded them on a personal level.
"We had students who were standing in one of the cathedrals and looking up at a window, and all of a sudden it hit them that the window was recording a historical moment that they had studied in class," Posusta said. "There was this lightbulb moment that was so lovely. To me, that's the reason to do this."
O'Keefe said the professors' passion for the subjects students learned about on the trip was what made the experience for her. "I would absolutely do this study abroad program again; I adore Mrs. Posusta and Dr. Davies, they are so passionate about the literature and history preserved in England, and it was so much fun to experience the program."