A sleek building surrounded by modern sculptures, framed against the scenic bluffs on the west side of campus, the Ent Center brings the arts right to UCCS' doorstep.
On top of being home to visual and performing arts majors and faculty, the Ent Center hosts a variety of artistic events and offers a relaxing environment for those looking for an escape from the hustle and bustle of central campus.
Ent Center Executive Director David Siegel said, "The Ent Center is the place where campus and community meet, a place to experience great art."
For most events, the Ent Center offers free admission with a student ID thanks to the Arts Pass program.
Theatreworks is a professional theater company based at the Ent Center since its 2018 opening, according to their website. Their upcoming fall productions include "Lumberjacks in Love" from Sept. 15 to Oct. 9 and "Little Women" from Nov. 25 to Dec. 18.
The Ent Center also hosts VAPA student productions including this semester's "Double-Sided Coin" dance show from Sept. 30 to Oct. 9 and the musical "Amélie" from Nov. 11-20.
Other performances include professional concerts in the Peak Frequency series. Student ensembles such as jazz, choir and symphony usually perform near the end of the semester.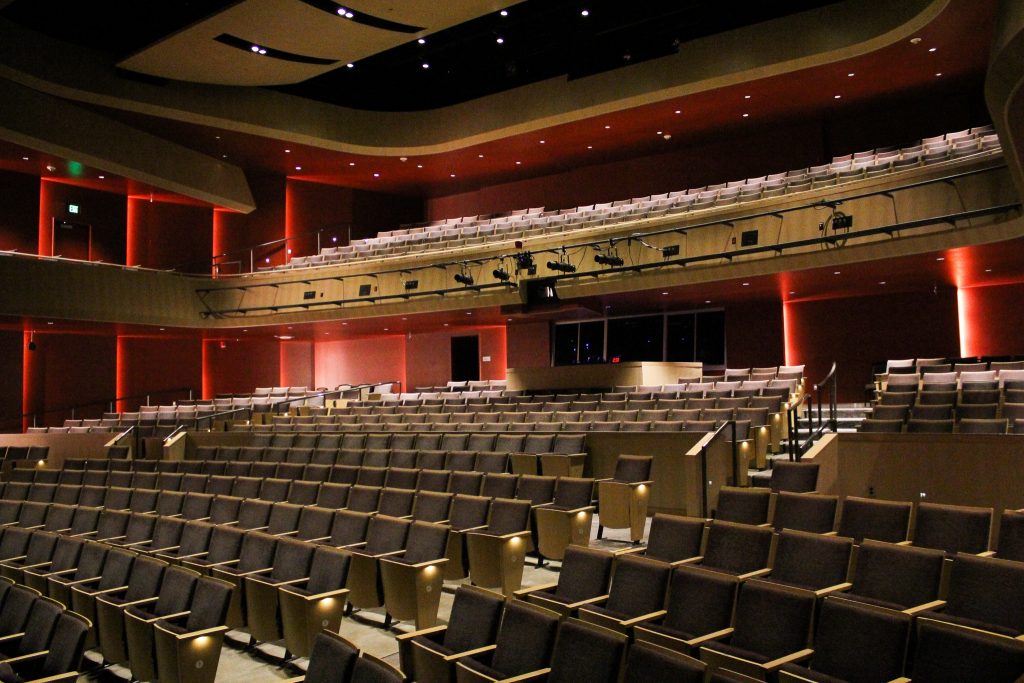 One of the theaters located in the Ent Center for the Arts. Photo by Lilian Davis.
The Galleries of Contemporary Art program organizes visual art exhibitions and visiting artist talks. Next up is an Oct. 1-15 exhibition by Cymon Padilla, who combines contemporary and traditional styles, according to the GOCA website.
Students can see exhibitions from their visual art major peers through the Ent Center or GOCA Downtown. GOCA also sponsors the year-round Art WithOut Limits collection of sculpture projects that can be seen outside the Ent Center.
Mindful Movement Mondays are a product of GOCA's partnership with the Wellness Center. These one-hour yoga sessions, usually at noon, can help students feel relaxed and ready going into the rest of the week.
For those less interested in the arts, the Ent Center's modern, cool atmosphere makes it a good place to study or sit and enjoy the view of Pikes Peak. For refreshments, Pinney's Café is open on Mondays and Wednesdays from 7:30 a.m. to 1:30 p.m.
The Ent Center's calendar displays all upcoming events. To reserve free tickets to performances, students can email [email protected] or call the box office at 719-255-8181.
Photo by Lillian Davis.