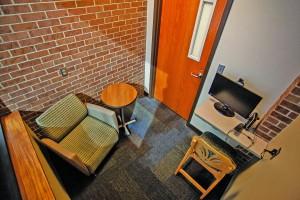 Feb. 8, 2016
Hannah Harvey
[email protected]
College students often juggle many responsibilities, from spending hours in the library studying for midterms to working long hours. But students with children have a lot of other things to focus on.
The Family Development Center is a nonprofit, accredited establishment that provides a variety of services to students who are raising children while getting their degree.
The center, located across Austin Bluffs from the University Center, serves 160 families, with 75 percent of these families including student parents, according to Ida Bauer, director of the Family Development Center.
The center won a grant from the Department of Education several years ago, which has contributed to the use of the center by students.
"The grant allows us to give scholarships to students who have children," said Bauer.
Average fees for childcare at the Family Development Center are $10,000-$12,000 a year, depending on the age of the child, according to Bauer.
Parking and Transportation and the Bookstore also give funds to the Family Development Center, used to provide scholarships for students. Families who have a parent in the military may also get a discount due to the accreditation, said Bauer.
Three scholarships are offered through the Family Development Center. The CCAMPIS scholarship is a grant from the Department of Education that helps students with children in need of financial aid. The other two are auxiliary university scholarships.
Students are subsidized between 20 and 100 percent for their fees, according to Bauer. This depends on if they receive the CCAMPIS scholarship, Pell Grant or have a military discount.
"As long as a student is enrolled and not on academic probation, we can give scholarships," Bauer said.
The exact number of student parents on campus is unknown, according to Barbara Gaddis, executive director of the Office of First Year Experience.
"We would only know if someone shares that information with us," Gaddis said. "I suspect there are not a lot of first-time freshman who have a family, since most of our freshman are traditionally aged. But we get a lot of transfer students and many of these might have children."
"There are 18-year-old parents, but more are in their late-20s to mid-30s. Some are returning to school, some have been working on degrees, taking a couple of classes at a time," added Bauer.
As for a student parent's course load, this varies too. Most students are full-time with 12 or more credit hours a semester, while others have six to nine.
Concerns of a student parent are different from that of a student who does not have children. Time, finances and childcare are at the top of the list.
"They want to feel part of the campus, do well academically, get involved, figure out a good career path. Being a full-time student requires a lot of time and efficiency to maximize your studies. Having family obligations adds a big thing onto an already full plate," added Gaddis.
Many services are available to help students with and without children succeed, such as the Excel Centers, MOSAIC Office, and Student Life and Leadership.