As the season of giving approaches, students should be aware of the best ways to give and receive free food and other grocery necessities on campus.
Clyde's Cupboard is a donation-based and non-need-based operation that provides food and hygiene products to UCCS students for free, according to their website. The cupboard is a resource for the benefit of students with no expectation of payment.
The cupboard stocks food staples such as ramen, cereal, peanut butter and more that are easy to pack and make. There are also recipe bags with ingredients to make meals, and drawers full of hygiene necessities such as toothbrushes, menstrual products, toilet paper and even makeup. Everything offered is completely free to students.
The main goal of the cupboard is to fight food insecurity and support students' success by making sure they have the food that they need to function at their highest academic capacity. Clyde's Cupboard is only open to UCCS students due to limited resources. However, there is a hope that eventually the cupboard will be open to the larger community.
     "In the future, we want to start with first being able to provide to UCCS including staff and faculty, and once we get a handle on that, we want to open to the whole local Colorado Springs community," said Bry'ona Johns, one of the student coordinators. "Right now, it's specifically for current, active students."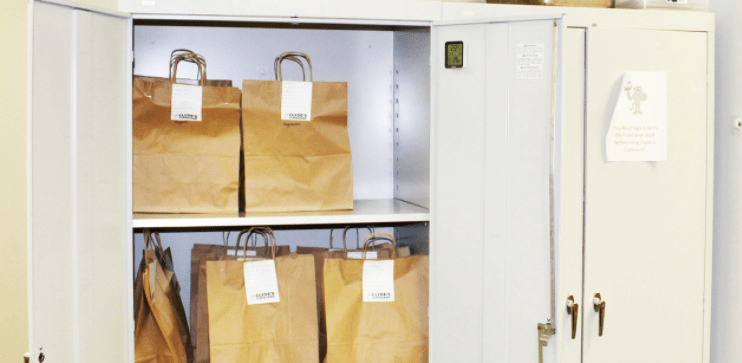 Resources are not given based on financial need, which means any student can take food from the pantry. This makes it easier for students who struggle with food insecurity to take what they need without feeling like they are calling attention to themselves. Thus, a space of safety is created to meet students' basic needs without intruding on their privacy.
Julia Ortiz, another student coordinator, said, "This is probably one of the most non-judgmental zones [on campus]. We are a space that tries to make students as comfortable as possible."
"We don't only want people who have a need to be able to use the cupboard, because that builds a lot of stigma," Johns said. "I don't think we have one specific target audience."
When the cupboard was first created in 2013, donation days such as "Giving Tuesdays" were the main source of food collection. As staff growth has continued, there has been enough funding that donation days are not the only way to receive food inventory.
While Johns expects donation days to continue eventually, the best ways to donate at present are monetarily and with hygiene products.
The cupboard is open year-round from 10 a.m. to 5 p.m., Monday through Friday, and is in the Student Life Center, with a satellite location open from 5 p.m. to 8 p.m. in the Wellness Center. Students can take up to eight items a week by using their student ID, and donations are always welcome in the boxes outside of Student Life.
     Clyde's Cupboard is active with "Fresh Food Fridays" throughout the fall and spring semesters, where they offer perishable goods such as milk, fruits, vegetables and bread. The best place to find upcoming "Fresh Food Friday" dates and some chances to volunteer is through social media, especially the cupboard's Instagram account, @clydescupboard.