Sept. 2, 2013
April Wefler
[email protected]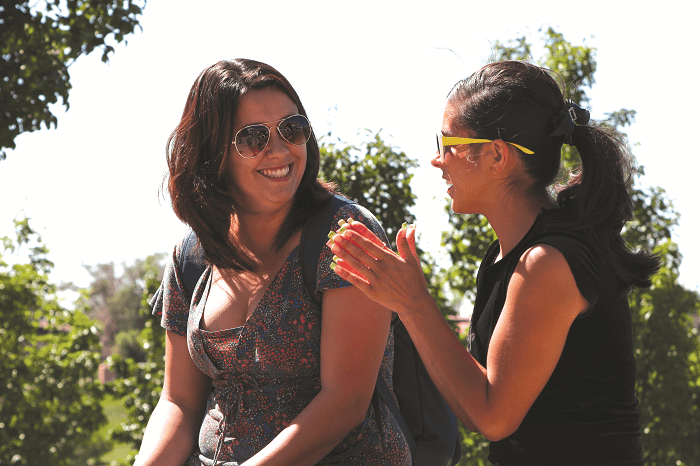 As international tensions in Syria continue to dominate headlines across the country, UCCS is helping international students acclimate to American culture by pairing them with a buddy.
The program, named iBuddy, is in its first year.
Mike Pugh, a senior majoring in global politics, originally majored in international affairs while going to school in Tokyo.
After the 2011 earthquake, the people in the program were sent back to the U.S. and when he came to campus, Pugh wanted to work in the Office of International Affairs because of his experience.
"I wanted to do more stuff with exchange students. The iBuddy program was something that they had wanted to get started for a long time, just were never able to get off the ground, so I helped them get it all started up," he said.
Reva Leyba, a senior communication major, said she got involved with iBuddy because she likes meeting new people, experiencing new cultures and making new friends. "I was excited. I was ready to meet her, show them the town," she said.
Leyba's iBuddy, Renata Banto, is a junior majoring in nutrition. Banto is from Brazil and came here to study English and nutrition. "The food is very different," she said.
Nayara Goncalves, also from Brazil, is a freshman in the U.S. and a junior in Brazil. She wanted to learn about the American culture and another language.
Dircelio Nascimendo, a senior majoring in veterinary medicine, said the program is good and is helping him make new friends. Nascimendo, unlike Banto and Goncalves, likes the American fried food.
Banto, Goncalves and Nascimendo, who are all from Brazil, said they miss their friends, family and the food. They said Brazil has fresh vegetables, not processed like in the U.S., and that the beans are sourer in Brazil.
Mike Saenz, international student advisor and education abroad coordinator, said the three Brazilian students are part of the Institute for International Education (IIE) and that they live across from the campus.
However, the German and Swedish students, along with one Italian, live in Sunset Creek and are part of the College of Business program. Saenz, whose iBuddy is from Germany, said Germans are very independent.
"He's actually from the northest part of Italy, so he's fluent in Italian and German, so it was just really neat to learn about him," Saenz said. He said that he's learned a few words in Italian and he's read German to his iBuddy but that his German isn't very good.
"It's really cool because I know Spanish, so we've gotten to share what's similar in Italian and Spanish, since they're romance languages," he said.
"I love learning languages, so hopefully maybe I'll be able to add an extra language. My parents are Mexican, so I hope to show him that side of my culture but my American one, too," Saenz added.
Pugh, whose iBuddy is from Germany, said he picked his buddy up at DIA. "I just talked with him, saw what his interests, majors are. We were both hungry, so we went to go eat and then we just talked at Village Inn for an hour or so, just getting to know each other. He's a cool guy," he said.
The iBuddy, Peter Schmitzer, was part of a two-week program in New York, where they were doing a Model U.N.
"So he's been in the U.S before and of course New York would be more extreme than here, so it's a bit tame here. It's nice and calm and relaxing, a lot different 'cause of the transportation and things like that, but he likes it," Pugh said.
Brendon Bravo, a freshman majoring in nutrition, is a mentor for another German student. "I took him to Wal-Mart; he wasn't used to it. I guess things are cheaper and there's more tax in Germany," he said.
Through iBuddy, Bravo hopes to gain a new friend and get to know his buddy's culture better. "I think it'd be cool to know about his experience in Germany. I hope he gains stuff from me, how American culture and Mexican culture is," he said.
He said that whenever he asks any of the international students if they like American football, they say no. However, Saenz said his iBuddy does like American football.