September 2, 2013
Eleanor Skelton
[email protected]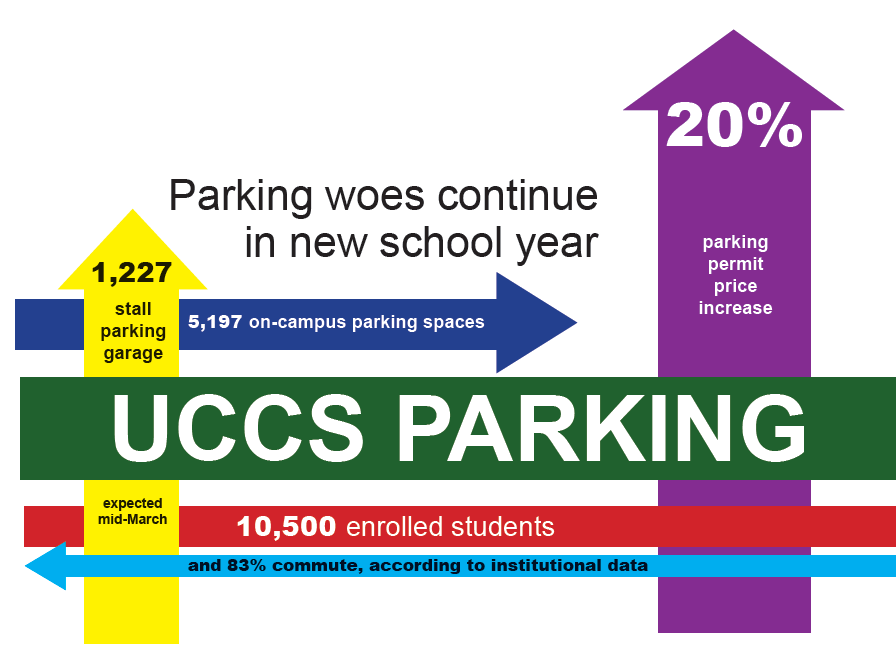 Another year with the largest ever incoming freshman class, consistent with the student population growth each year prior, is again putting strain on waitlisted classes and stretching capacities of campus parking lots.
Jim Spice, executive director of Parking and Transportation Services, said that parking is "a little tighter than I was anticipating."
With such high enrollment numbers, Spice said, "I didn't think I was going to have that many cars."
The school has 5,195 parking spaces on campus. Parking at the Four Diamonds Sports Complex on North Nevada Avenue has 474 spaces.
Lot 15, the newest parking location north of the Four Diamonds Sports Complex, is expected to take some of the load off parking with an additional 440 spaces to help offset those lost when the Lane Center project started on Nevada.
Spice indicated 100 spaces around the Lane Center will reopen in February, and he estimates around 100 spaces were lost there due to construction. Another 100-150 spaces have been taken up south of the Lane Center because of construction staging.
"That's one of the reasons we built Lot 15 is anticipation of increasing enrollment and the Lane Center loss," said Spice, who has worked in both parking and public safety at UCCS since 1988.
Spice said the school has a backup plan in place. "If Lot 15 does fill, we'll automatically implement our backup plan, which is Freedom Financial Expo Center on Nevada Avenue, and we'll have shuttle buses going to and from campus. We'll always have parking; it just might not be necessarily right … close to the campus."
Two days into classes, the school had filled Lot 15, but it didn't overflow, Spice said. Other days it has had about one or two dozen spaces still open. "So we're right at capacity," he said.
Transfer student Amber Edwards, a biology major, said, "Coming from Vermont, it's a lot different because my school was very small. There was always parking. I find it a little bit crazy that parking is so far away."
When she arrives at 8:15 or 8:30 on Tuesday or Thursday mornings, she can only find space in Lot 15, but she said, "I haven't had to wait more than 10 minutes for a shuttle."
Others, like sophomore nursing major Tamika Bjork who arrives to park at around 7:30 a.m., think parking at Four Diamonds "is pretty much the same [as last year]."
Higher fees
The 20 percent parking fee increase, the school's first in six years, is due to rising costs in the parking and transportation department overall, Spice indicated.
"Parking is completely 100 percent user funded. So by state law, [in] a ruling by the Colorado Commission on Higher Education, we cannot use state funds to fund parking. We have to use user-funded fees."
Moneys are used for "building new lots and maintaining existing lots. For example, two summers ago, I resurfaced lots 3 and 4. It was a 2-inch overlay, and it was $350,000, and all of that money came out of parking permit fees. And that's just two parking lots."
Security patrols and shuttle buses are paid for with the $70 Student Transportation and Safety fee that all students pay with tuition each semester. This fee is deducted from student HUB permits, which is why faculty and staff permits are more expensive.
Illegal parking on campus
"We wrote 300 tickets in the HUB the first day of classes [this semester]. Three hundred kids without a HUB permit that are parked in HUB permit owners' space," Spice said.
Students parking on the grass at Four Diamonds are also being ticketed. The area has been regulated in past years, but illegal parking was not so prevalent before.
"There was a guy that was parked almost at a 45 degree [angle] in a Jeep, and I had them ticketed, because that's dangerous. We have enough parking, and if we run out of parking at Lot 15, we'll go to Freedom Financial."
Across from Four Diamonds, Costco at University Village has given flyers to Spice asking students not to park there all day or Costco may decide to implement towing.
Parking garage and Cragmor
A 1,227-stall parking garage being built north of Austin Bluffs Parkway and west of Stanton Road is slated for a March opening and may help detract students from parking in the nearby Cragmor neighborhood.
"I think it will be good when the new parking structure opens up," said Ph.D. engineering student Ryan Bosworth.
Bosworth has been attending UCCS since his freshman year and currently lives off of Acacia Drive in Cragmor, though he commuted from downtown for his first five years. "Every semester, you see some frustration about the parking situation because it does just get worse and worse."
"[It seems] like we're about a year off because if the parking garage we're constructing were actually available now, there would be a lot less stress for students to move from parking over in the neighborhood," said organic chemistry professor Allen Schoffstall, who has been teaching at UCCS since 1967 and rents to students in the Cragmor neighborhood.
Students in his class are calling and texting other students in his 8 a.m. class to ask him "wait 5 or 10 minutes" because "the buses are running late or I can't get a space," he said.
"People have been parking in the Cragmor neighborhood south of campus for years," he said. "Now this push to have all these students who are currently parking there park down at Four Diamonds or elsewhere is causing stress."
Katie Garvert, one of the Cragmor residents whose husband was contacted by The Scribe last year regarding the Good Neighbors parking policy (Sept. 3, 2012 issue), commented on the "no parking" signs posted on orange cones down Acacia Drive.
"We're kind of waiting to see how it goes," she said. "There's been a lot of talk for a long time and to see on Monday that these signs were put up and now something is moving and happening seems like we might be on the right track."
Future planning
Spice and another officer passed out flyers the first few days of school to inform students at Four Diamonds about Lot 15 who might not have been aware of it last year.
A new shuttle bus has been added to the fleet, and another one is being leased.
"Knowing that the [Cragmor] neighborhood is going to go to a permit system and knowing that faculty and staff sometimes have to be here at 7 in the morning, we added another shuttle stop at 6:40 a.m.," Spice said. "The first day, there were 10 and the second day, there were six people that rode it."
Spice indicated lots usually fill around 10:30 a.m.
A free smartphone app tracking the GPS position and ETA of campus shuttle buses is scheduled to be released in the next few weeks.
Spice recommended that students with HUB permits unable to park speak with parking staff, who can direct them to open lots, such as Lot L, which is open the first three weeks of the semester, when the parking garage or lots are marked off with orange cones.