With housing costs at a record high for the state of Colorado, students are facing expensive living costs; many must compare the costs of living on campus versus off campus.
According to the Gazette, the cost of living in Colorado Springs has hit a record high of 6.8% above the national average. Colorado Springs has been above the national average since mid-2019. The current average rent for a two-bedroom apartment rose 13.5% over the last year to $1,558 per month.
Multiple factors have led to the higher cost of living. In an interview with the Gazette, Breann Preston, director of business intelligence for the Colorado Springs Chamber, said, "When you have high demand and not much supply, you will see price increases like we have. This is what happens when you are a place where many people want to live."
In a poll conducted by The Scribe, some UCCS students said they prefer to live off campus because it is cheaper than living in the dorms. Of those that answered, students said they work, own businesses or have been taking out loans to offset the cost of living.
     While it is convenient to live on campus, and the dorms provide housing security for freshmen, it is more expensive to stay in the dorms compared to living off campus. According to Resident Life and Housing, on average, a UCCS student will pay $6,573 per semester to live on campus. This price also includes a meal plan, internet and access to all dorm facilities. 
There are options for off-campus housing, including Lion Village, West Edge, 11 West, The Lodges and several other options that are not student-housing specific. However, students get priority when applying for housing in these apartment buildings.
These student living communities offer their residents convenience due to their location, as well as lower prices than those offered on campus. Each apartment comes fully furnished with private bathrooms and includes utilities, internet and sometimes cable in their rent prices.
     Lion Village is located off Rockrimmon Blvd. and has two-bedroom apartments starting at $855 per room, and four-bedroom apartments starting at $640 per room. West Edge charges $635-$1,299 per room and has options from a studio apartment to six-bedroom shared housing.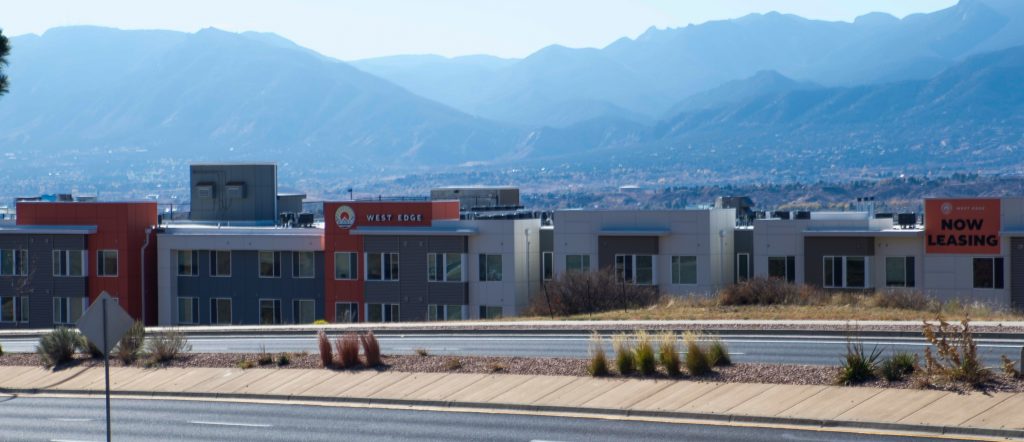 11 West offers two- and three-bedroom options, starting from $705-$815 per room. The Lodges have one- to five-bedroom apartments ranging from $570-$1,450 per room.
Living on campus for an entire semester would cost the student $1,643 per month, on average. While this includes a meal plan, that does not offset the over $1,000 increase from some of the other off-campus options.
Additionally, there are no UCCS programs currently advertised to help students struggling to make ends meet with the rising housing costs in Colorado. However, Clyde's Cupboard is available for students facing food insecurities.
Located in Student Life at University Center room 102, Clyde's Cupboard is a place where students can get up to eight free food items per week. Clyde's also offers Fresh Food Fridays where, "Students can pick up a selection of fresh food including vegetables, fruit, milk, bread, and more," according to the UCCS website.