5 out of 5 stars
La Baguette French Bistro near the UCCS campus is a small slice of Paris, France. However, do not get it confused with La Baguette on West Colorado Avenue or La Baguette Cafe and Espresso Bar on Pikes Peak Avenue, as there are three different La Baguette's in the Springs.
Open every day except Sunday, from 8 a.m.-3 p.m., they are the perfect stop for fresh baked pastries and delicious soups and salads. They also have various French classics such as "Le Bistro Dip," which according to their menu is a "thick stack of premium roast beef on top of French baguette with [their] Bistro sauce, paprika onions and melted swiss cheese served with [their] famous 'au Jus' for dipping and grapes."
La Baguette is just a seven-minute drive from UCCS, which makes them an even more convenient small business to support. With extremely kind waitstaff, beautifully plated dishes and quick serving times, I have found my absolute favorite restaurant in the Springs.
The restaurant itself looks like it really could be located in France with a miniature Eiffel Tower on the counter, charming paintings of France on the walls, adorably placed booths and more which all come together for a homey cafe atmosphere.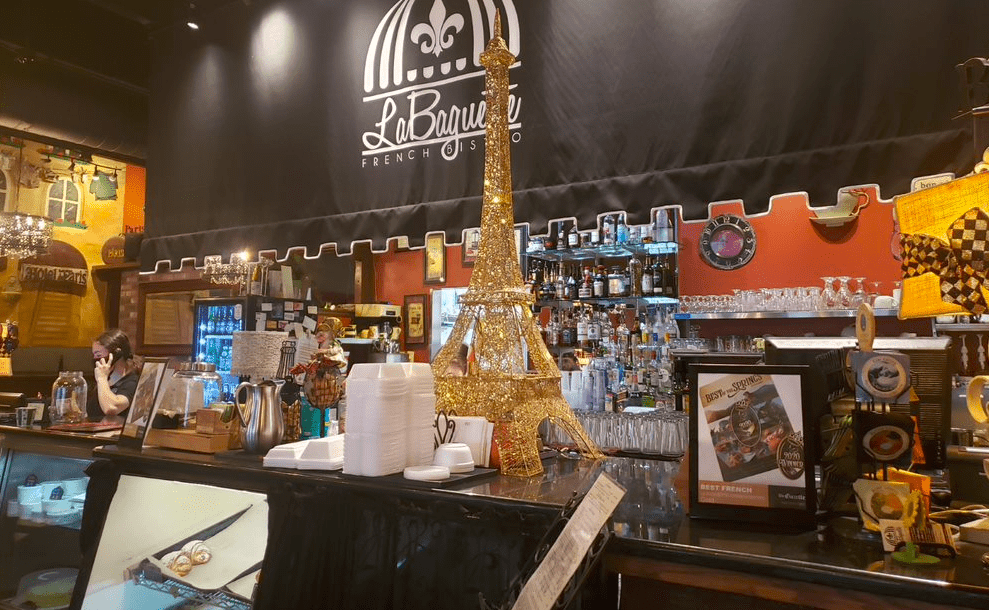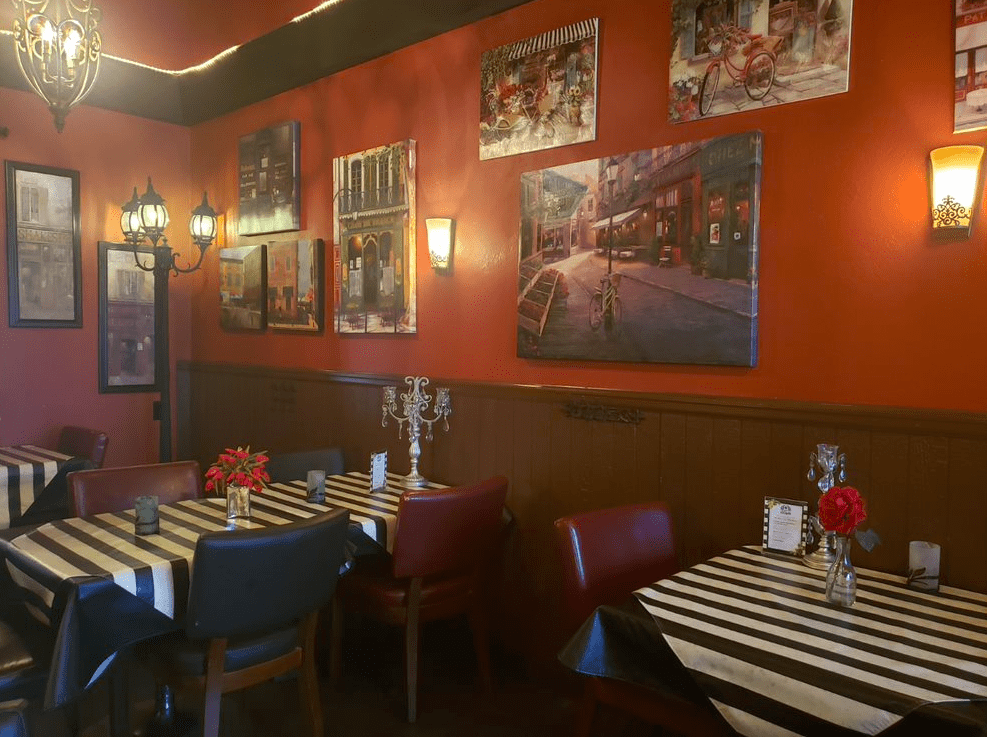 I am a bit of a picky eater and do not typically like to try new foods. Having gone to La Baguette many times in the past few months, even several days in a row, I have truly enjoyed every dish I have had there.
From the almond crusted French toast to the potato leek soup, every item that comes from their kitchen is delicious and fresh.
I had the pleasure of visiting the restaurant twice this past week. On one visit, I selected a breakfast dish, "Swiss Alpes Casserole," and later I chose a lunch dish, "La Soup et La Salad."
The latter is a favorite combination of mine as their Caesar salad, with fresh baked herbed croutons, grape tomatoes and parmesan sprinkled on top, is the best Caesar salad I have ever had the pleasure of tasting. Combine this salad with the soup of the day, a piece of baguette on the side and a lemonade, and you'll not be disappointed.
I highly recommend this combination, especially a hot soup with the salad. If you're more of a sandwich person, they have plenty of options to keep you happy and are quite flexible with swapping out meats, vegetables and cheeses.
The "Swiss Alpes Casserole" had me a bit suspicious because I am not typically a breakfast person. However, I would absolutely become a breakfast person if it meant having this dish every morning. With perfectly melted strands of swiss cheese atop a layer of seasoned potatoes, I felt like I was in heaven.
Because it is a casserole, the layers are hotter as you work your way down to the scrambled eggs at the bottom. I loved this because it gave me time to give my stomach a break from the hearty meal while I waited for the steam to disappear. I also added a small bit of red tabasco sauce for spice, which required copious amounts of water, but I wholly enjoyed it!
The texture was great as well; there was a fine balance between the softer and fluffier scrambled eggs and the more firm diced potatoes and bits of ham. This was a culinary experience I would recommend to anyone due to the amount of food and the very fair price of $13.50.
Furthermore, I can say without a doubt that La Baguette French Bistro cares just as much for the preparation of their food as they do in the presentation. With doilies placed beneath hot drinks and bowls of soup, the aesthetic is elegant and classy.
Another benefit of finding such a small restaurant is that you come to recognize other customers and grow familiar with the staff. The waitresses, typically the same two, are always so accommodating and attentive. The owner is also clearly a hard worker and puts effort into this beautifully curated restaurant.
You can contact the restaurant via phone at 719-599-0686 and find them at 4440 N. Chestnut Street, off of Garden of the Gods. The menu is available online at this link.