February 13, 2018
Lindsey O'Reilly
    A chime sound greets parking attendants as they drive through a campus parking lot.
    Someone has just received a parking ticket.
    This semester, Parking and Transportation Services officially implemented a license plate recognition system, ridding the need for physical parking clings. LPR scans a student's license plate to determine if they have paid for their parking permit.
    The computer system in the LPR vehicle chimes when it finds a parking violation. From there, whoever is managing the computer system will electronically type out a ticket and print it out so another employee can place it on the car's windshield.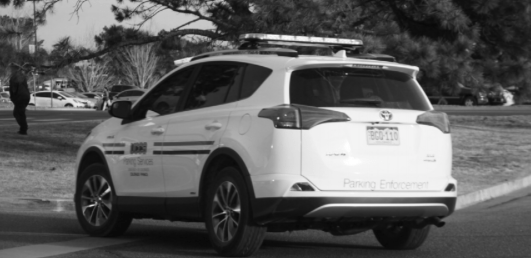 The computer system in the LPR vehicle provides an image of each car and its corresponding license plate. Parking employees drive the car through each aisle of campus parking lots to see who has parked there with and without permits.
     The LPR system gives a 30-minute time frame for cars to leave campus. Students will also get an email with their parking ticket and an explanation of their violation.
     Renee Cinkosky, assistant parking manager, drives the car containing the LPR system. Senior nursing student, Julia Buckingham manages the computer operations, and junior communication major, Donnie Byers, is in charge of delivering any physical parking tickets.
    Before LPR, parking employers would travel by foot to write tickers, according to Byers..
    "I'd average 20,000 – 30,000 steps before the new system," said Byers.
     New methods of finding open parking spots and payment have also been created for students to use as resources when trying to get to classes on time. Park Mobile is a new app for students to find open parking, pay for parking and extending their time.
    "The (LPR) machine can talk to Park Mobile. Now students don't have to walk to the payment machines. You can just pay right there," said Cinkosky.
    While the new system allows for faster ticketing, there are still times students will approach Parking Services as the ticket is being created.
    During these situations, parking attendants prefer to civilly discuss the violation with the student without ticketing them, according to Buckingham
    "If they come out and talk to me, often times we'll take it back," Buckingham said.
    Parking attendants have expressed that ticketing isn't something they enjoy doing, according to Buckingham.
    "If you're paying over $200 for a pass, it's not fair when a student who hasn't paid for a pass to take those available parking spots for free," said Buckingham.
   For more information on LPR, visit uccs.edu/pts/parking. Students can download the Park Mobile app at parkmobile.com.
    You can download and learn more about the Park Mobile App at parkmobile.com.