12 November 2019
Suzanne Seyfi
The Cupcake Doctor is a local shop with lots of flavor, both in its baked goods and execution.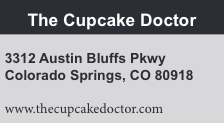 While the cupcakes are addictively tasty, other wares cannot be overlooked. The Cupcake Doctor also serves cakes, brownies, cookies, cake pops, ice cream, muffins and macaroons, among other treats. Everything is made from scratch, even the ice cream.
The most popular cupcake flavor is "The Peak" (a chocolate concoction with cream cheese frosting), but The Cupcake Doctor also produces many other flavors like "Mexican Hot Chocolate," "She Wore Blue Velvet," "Cola Cooler" and "Irish Car Bomb." Several treats are vegan, gluten-free, sugar-free or allergy-proof.
The "doctor" theme is cute, not overdone. Customers are referred to as "patients," deliveries are "house calls" and employees sometimes wear lab coats. There is nary a syringe or stethoscope in sight to tip the scale into horrifying-cliché territory.
The Cupcake Doctor can be found in two places: it is both a shop on Austin Bluffs (between Union and Academy) and a food truck.
The shop is tiny, with just enough room for a display counter, a table and two chairs. The rest of the space is dedicated to a sizable kitchen where the magic happens.
The truck, named Coco, pops up all over Colorado Springs. It participates in weekly food truck gatherings such as the 719 Hump Day Food Truck Rally and Saturdays At The Square, but it also shows up individually at hospitals, churches, schools and parks.
Both the shop and the food truck sell an assortment of rotating flavors. The best way to find out today's offerings is online, either through The Cupcake Doctor's website, Facebook or Twitter. The website also posts current pricing, especially if you are interested in a custom order or delivery.
Lavishly decorated custom cakes can be requested in just about any theme, from Sesame Street and superheroes to military reunions and weddings.
Desirae Leipply, the brains and heart behind The Cupcake Doctor, was a medical research scientist for years before capitulating to her love of baked goods. She has been supported in her pursuit of the sweet life by her parents and brother, all of whom have served in the military for decades.
Since The Cupcake Doctor is owned and operated by a military family, it offers military and first responder discounts. It also offers frequent promotional discounts and a robust rewards program.
If you are looking to satisfy a sweet-tooth craving, The Cupcake Doctor is your best bet for sugary satisfaction.