A colorful, open layout lounge is the new hub of a revamped space for students on the ground floor of the University Center. The Multicultural Office for Student Access, Inclusiveness and Community (MOSAIC) renovation has been completed after being approved last year.
MOSAIC now includes three offices for professional staff and one for student staff, a meditation space, an area for students to meet with staff privately, a study bar with a view over Pikes Peak and a lounge area with study or work tables and diverse seating. The front of the lounge has a glass garage door which, when open, provides students easy access to study spaces and other resources.
     Located at UC 110, the office is still in its former location, but has expanded to nearly double its original size into adjacent office space. To accommodate for the expansion, the Copy Center has relocated into the UCCS Bookstore.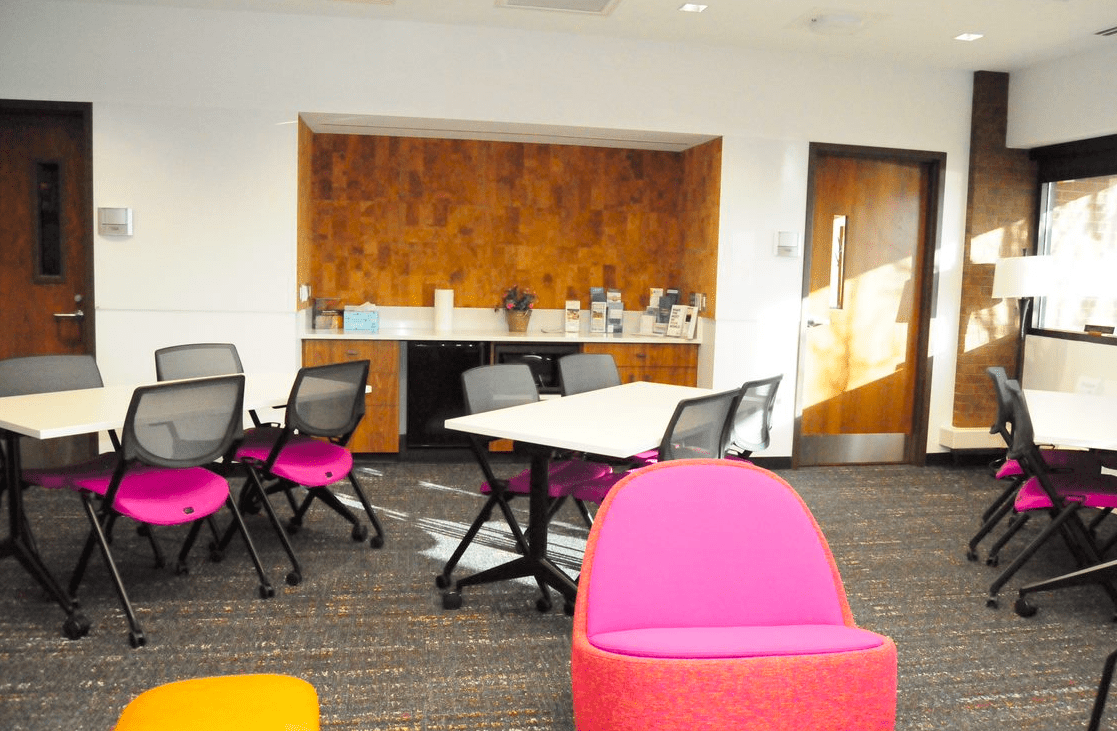 Students are welcome to use the study area or meditation space without making an appointment. "The way the office is always run is if there is an official staffer here, the door is going to be open," said MOSAIC and Gateway Program Director Anthony Cordova.
Cordova is also encouraging clubs to use the office as a meeting space. "I really want students to come back and use the space for their clubs especially because I want their clubs and the officers to be ready to go through the summer so they'll be ready in the fall," Cordova said.
The office will be accessible for students to host small and large events, including club meetings and club events, when pandemic restrictions allow.
Students were directly involved in planning and designing the renovations alongside architects — as well as calling attention to the importance of the expansion. "The students were the ones that championed the idea of expanding the space. They're the ones that actually helped the Chancellor to see the need," Cordova said.
Through MOSAIC, students have access to resources that will help them succeed in a college environment, especially those who are first generation college students, students of color, LGBTQ+ or undocumented, according to the MOSAIC website.
MOSAIC includes a variety of targeted programs for students including the Gateway Program, for students who face specific social or academic challenges, and the Student Advocacy and Support Program, which supports and advocates for undocumented students.
The office also recently hired two new coordinators: an LGBTQ+ coordinator and a MOSAIC coordinator.
"I trust that people that are coming in with education that is geared directly towards supporting students will have a tremendous amount of new and creative ideas that will be beneficial to the student population," Cordova said.
Cordova will be retiring in June and a search committee is in the process of interviewing candidates for his replacement. "While I feel very responsible for the space, I know it's not my space," said Cordova.
     "It belongs to the students," he added.