The MOSAIC and LGBTQ+ Resource Center hosted a Community Speak Out event on Oct. 27 that gave UCCS students, staff and faculty the opportunity to speak on topics related to campus and the community.
The event was led by new MOSAIC director Whitley Hadley, who wrote via email, "We host the Community Speak Out events twice per semester to create an ongoing environment of dialogue, support, and action."
Hadley began the event by establishing a set of community guidelines that students are required to follow at every Speak Out event.
"We aim to create safer spaces for the UCCS community to share their thoughts, create action, and care for one another," they said. "We can't guarantee ultimate safety, but by establishing community guidelines…we are able to strive for safer spaces across the community and beyond."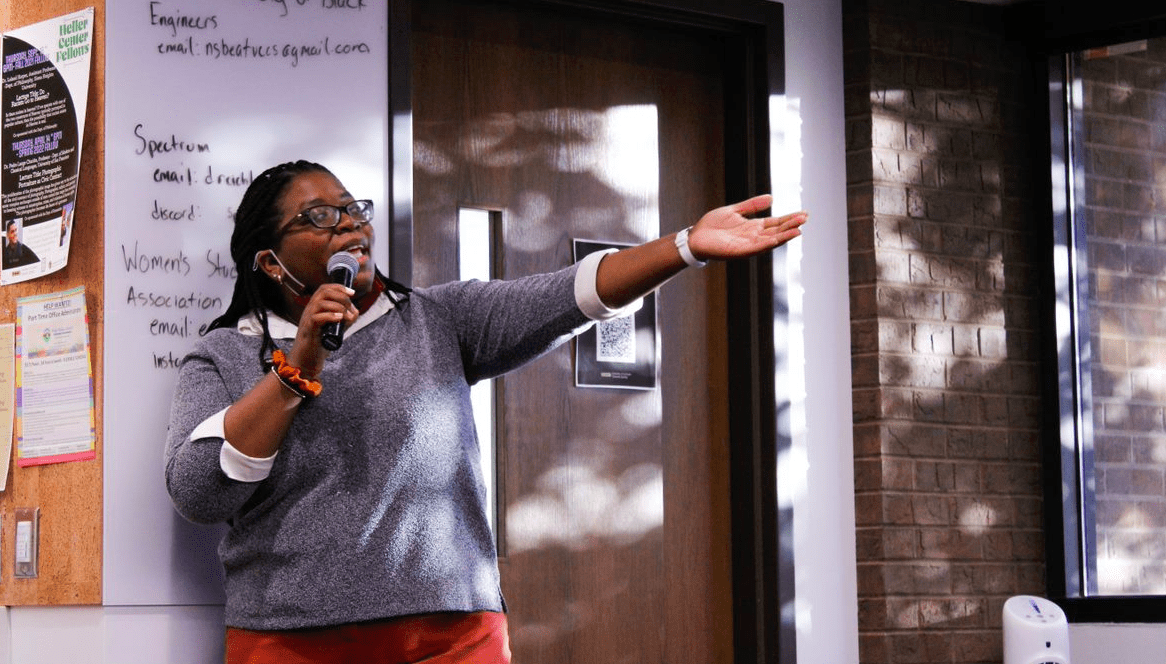 One of the guidelines that Hadley mentioned is the importance of maintaining the anonymity and privacy of Speak Out participants.
"What's shared here stays here and what's learned here leaves here," they said.
This reassures students, staff and faculty they can open up at Speak Out events, and create a stronger campus community through their storytelling and vulnerability, according to Hadley.
Hadley said, "Storytelling is a liberation strategy, and we want all members of the UCCS community to know that they belong, matter, and are imperative to our society's overall well-being."
Before opening the floor to the Speak Out participants, Hadley provided some information about what it means to be an ally or an activist, and how individuals might practice activism in their day-to-day lives. Hadley explained that all forms of activism are important, as they allow us to use our abilities for the greater good.
According to Hadley, activism can be something as simple as cooking a meal for friends in need, but also something more complicated like organizing a protest in support of a cause. Both acts are integral to creating a better community.
To start off the open-mic session, Hadley read aloud a poem from Lucille Clifton called "won't you celebrate with me." A couple of other participants shared poems that they wrote involving themes of racism, colorism and social injustice.
Various UCCS events were also addressed during the open-mic session, particularly those related to the Spectrum club. One participant mentioned that the Spectrum club helps create safe spaces for students to express their identity on campus, which is important considering that LGBTQ+ identities are still widely rejected and misunderstood.
The open-mic session also included the discussion of a variety of spring courses, including WEST 2100, "WAP: Women and Protests," which will be taught by Ilaheva Tua'one.
Graduate assistant Ale Ruiz led an exercise following the open-mic session meant to ground and calm participants after an hour of storytelling and vulnerability. Ruiz instructed participants, "Look around … and name three things you can see," followed by "three things you can hear" and "three things you can touch." This exercise gave participants the opportunity to reorient themselves to the present.
In closing, Hadley invited participants to continue attending the Speak Out events hosted by MOSAIC. "Speak Outs should not solely happen around crisis," they said. "They are a strong avenue to really understand the needs of a community, build stronger pathways towards collaboration through understanding each other's stories, and sustain initiatives for the community's well-being."
Upcoming events at the MOSAIC and LGBTQ+ Resource Center will be part of an "Evolving Language" series meant to educate UCCS students, staff and faculty on the evolution of terminology used within and placed upon various communities.
The next "Evolving Language" event will take place on Nov. 15 from 5-6:30 p.m. in UC 110, and will answer the question, "What's the difference in using Indian, Native American, or First Nations?" Students, staff, and faculty can RSVP for the event on Mountain Lion Connect.