Who am I? What do I do? Where do I fit in?
For many students at UCCS, answers to questions such as these can be found through MOSAIC.
In an event to welcome — and welcome back — LGBTQ+ students, faculty and staff on campus, the MOSAIC office hosted a mix and mingle event on Sept. 8 from 11:30 a.m. to 1:30 p.m. at their office in University Center.
De Jae Spears, the LGBTQ+ resource coordinator, spoke about their goals for the mix and mingle. "I want to … bring more ways for students to get involved within the MOSAIC and in outside communities and with each other," they said.
     Building community among students has been one of the main goals of the LGBTQ+ Resource Center since its founding in 2009. According to the MOSAIC website, the goal of the organization is to "cultivate the holistic development of historically and currently marginalized students at UCCS."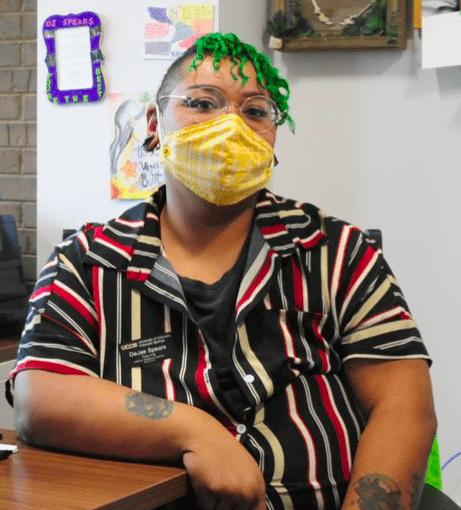 This inclusive mentality meant that there was a place for every student — LGBTQ+ individuals as well as their allies and advocates — at the LGBTQ+ Mix and Mingle.
The mix and mingle had the atmosphere of a casual gathering. Coloring sheets, card games and food were provided as activities while students connected with each other.
This event helps encourage a positive and recognizable community at UCCS, according to Spears. "I think it lets them know that LGBT people are on campus. … I also want to make the LGBT resource center more visible," they said.
In addition to visibility, Spears hopes to bring in feedback from students to better connect them with the resources that the LGBTQ+ Resource Center provides.
"I feel like meeting with students and being able to gauge their interest could more actively help them find and seek community resources. Whether that's like wanting to find an internship, doing community things or where safer spaces are for LGBT students … I think this event will really help people do that," they said.
The LGBTQ+ Mix and Mingle does not occur every year, however, Spears shared their hopes for future mix and mingle events.
"It is something I'd like to make a tradition of doing like every year to welcome students back from over the summer and also welcome in the incoming class," they said.
Spears encourages students interested in MOSAIC to get involved.
"Whether that's doing homework or mingling with other people to just chit-chatting … being kind of immersed in the space … opens up doors for wanting to get involved," they said.
     Getting involved is easy at the LGBTQ+ Resource Center, whether it be volunteer opportunities with student-lead organizations, such as Spectrum and Queer Transgender People of Color and Two-Spirit, or attending events like the LGBTQ+ Mix and Mingle.