4 September 2018
Devon Williams
    The men's soccer team at UCCS is beginning the season with a new coach.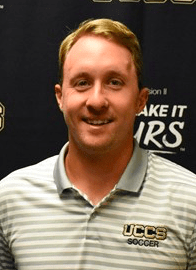 Formerly an assistant coach from 2011 to 2017, Brian Miller is taking the lead with the team going forward.
    Miller used to be the assistant coach, lending to a team familiarity that would be non-existent with a stranger.
    Adam Baldwin, a sophomore on the team says that Miller's leadership will strengthen the team
    "The new coach will definitely have a positive impact on the team. He ran great practices with high intensity, and held us accountable to our standard of 'training to win.' Last year, we had a lot of negativity on our team which really weighed us down, so I think the biggest change with the new coaching staff is the chance to wipe the slate clean and start over with new rules and a new team culture, which will hopefully be the defining factor of our success," said Baldwin.
    Miller has helped lead the team to several successes, such as helping them achieve a postseason bid to the RMAC Tournament in all seven seasons of his assistant coaching career. In 2016, the men's soccer team finished the regular season with the third best record in the league. In 2015, UCCS finished sixth in the NCAA Division II South Central Region and in the top 10 of the National Soccer Coaches Association of America regional poll.
    Miller has had some of his own triumphs, from winning the four-year letter winner at University of Wisconsin-Oshkosh from 2006-10. Over the duration of playing soccer, he played 74 matches and led the titans to a 56-15-10 record with 17 goals and 16 assists. Academically, Miller finished his career at UW-Oshkosh and received his bachelor's degree in psychology with a minor in wellness promotion. In 2014, he received his master's degree in counseling and human services. Miller also has his United States Soccer Federation "C" Coaching License.