UCCS' Galleries of Contemporary Art (GOCA) 14th annual exhibition, titled "Awakening," opened April 16 at GOCA Downtown, according to a press release. The show will run through May 15.
The exhibition features UCCS senior Visual and Performing Arts (VAPA) majors. Senior VAPA students — Brandon Bockstahler, Sydney Martinez, Samantha Howell and Brad Koerwitz — all commented on their art pieces, their inspiration and their education at UCCS.
Bockstahler explained that he has a total of five different pieces combined into one, titled "Into the Unknown." The five smaller pieces — all of which are animation projects — are called "Alone," "The Pursuit," "Another Night," "A Fantasy" and "Sanity." Bockstahler's work appears in a looping video.
"The overarching concept behind all of them is dealing with the idea of time and infinity and kind of my attempt to understand the idea of infinity," Bockstahler said.
He continued, "A lot of it is about the small animations within the larger 'Into the Unknown' series [and] are about personal struggles that I have within my life but also that I kind of attribute to trying to think of a concept as fast as infinity."
     Bockstahler explained that the pieces are about the various aspects of his life that he has struggled with, including difficulties talking to other people and challenges involved in feeling accomplished or achieving something.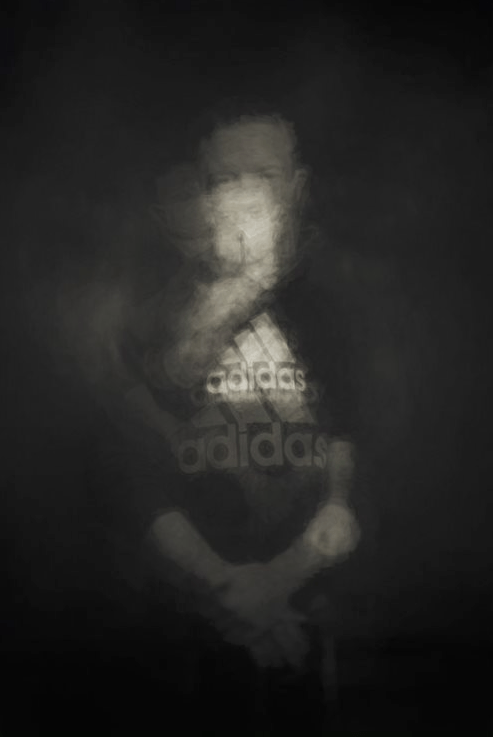 After Bockstahler graduates, he plans to pursue a career in animation. "I would think that telling stories is mostly the thing that attracts me to animation, as well as drawing, but mostly I'm driven by the story behind it," he said.
Bockstahler also commented on his education at UCCS, saying, "I don't think [UCCS] is known for their visual and performing arts program, but I was really surprised with how unique, but also how informative all the professors in the program are. A lot of them definitely know what they're talking about, and I was very pleased with my experience here at UCCS."
Martinez is a senior majoring in visual arts with a minor in marketing and plans to graduate in the fall.
Martinez' projects focused on childhood trauma and her personal experiences with trauma. She made a collection of hoops, titled "Letter to My Younger Self 1-10." She also has two other pieces called "Two Truths" and "Shadow Self."
"My hoops are all letters to my younger self, which has to do with shadow work and healing my inner child. So, they're things that I wish I could have told my younger self when I was going through and experiencing the trauma that I did. It's things like 'you are valid.' 'If someone pushes you and you break, that's not your fault,'" Martinez said.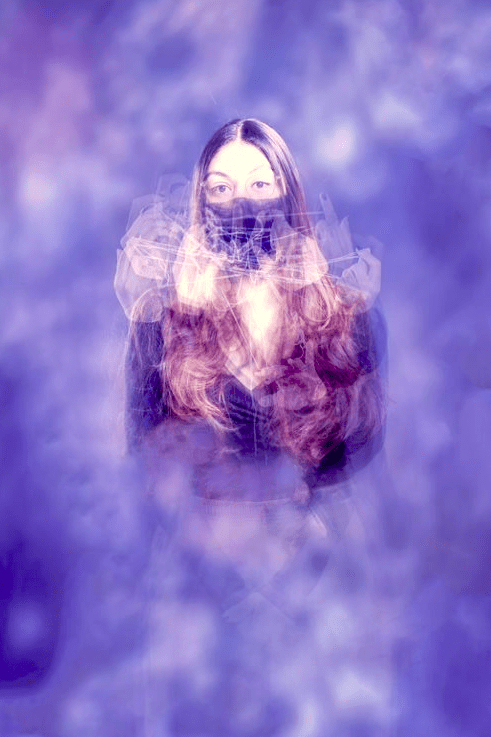 "Two Truths," has two parts, according to Martinez. "One says, 'I didn't deserve how you treated me, I was a child,' and the other one says, 'I deserved how you treated me, I was a child,' and they're both connected by strings."
She explained, "When I was growing up, I felt responsible for the way that I was treated and the things that happened to me. But now that I'm older, I can understand that I didn't deserve that, because children aren't responsible for the actions of adults."
Martinez is currently looking into art therapy after she graduates.
"Originally it wasn't something I was interested in. I wanted to go into marketing, but after going through therapy myself, and using my art as my own therapy, I've really decided that I think I want to go down that path because I want to make people feel the way that I feel now, and I want to give people that freedom that I'm experiencing because it's the best feeling in the world," she said.
She also added, "The professors in visual arts specifically are so supportive and so kind, and I don't think I would be sharing the work I am or comfortable sharing my truth if it wasn't for them."
Howell, another senior in the art show, explained that she had not originally intended to study art when she entered college. After taking one art class, she was set on the path to major in the visual arts program.
She said, "I've kind of just like, went all in and just fully submerged myself in the arts, at school, and it's just kind of been history ever since."
     Her project in the senior show is called "(A)symmetrical" and uses yarn and other knitting materials that are strung across the room, intersecting them with multiple colors.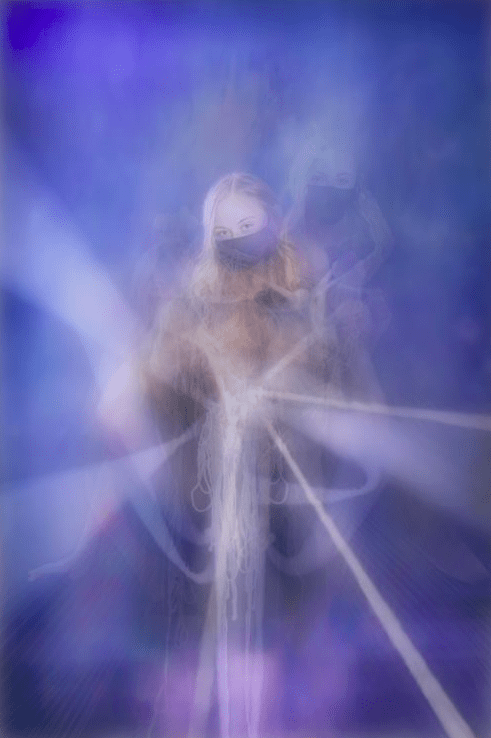 "For this project, I wanted it to be symmetrical in form, but asymmetrical in color. So, it's a little optical illusion going on with this project, which is usually one of my main goals in a lot of my string installations," Howell said.
She also said, "I did string insulation for the first time back in 2019, and I just fell in love with creating large scale installs that just consume the rooms and they really dissect the space, and [they] bring attention to your own body and being aware of your physical presence within the room and within the art piece, and so every time I create a new one, I'm [trying] to think of how I can create a bigger and better, brighter piece that people can interact with and just stare at forever."
Currently, Howell is a gallery assistant with GOCA. Howell said, "Until I started working there, I had no idea that that's what I wanted to do for the rest of my life, and so my hopeful direction and plans after graduation would be to start working at large scale art museums, preferably contemporary art museums in Denver."
Howell also wanted to give a shoutout to the UCCS arts program.
"I don't think that it gets the credit it deserves," she said. "[The VAPA professors] really push you to explore the content of your work and not just the technical skill sets of your work, and I think that's almost more important than how good your artwork actually looks versus what it means, and it's a lot harder than people would assume it to be so it really pushes you to be a really good artist. So, I just want to thank all the professors from the UCCS Visual Arts Department."
Koerwitz, also commented on his piece at Downtown GOCA which he has been working on for the past two years—A two-part cyanotype study into memory and its loss.
     The pieces are called "The Fading" and "The Forgotten" and are made up of photo negative images from Koerwitz' life. "I then use these negatives to create cyanotype prints of the images which become part of 'The Fading,'" he said.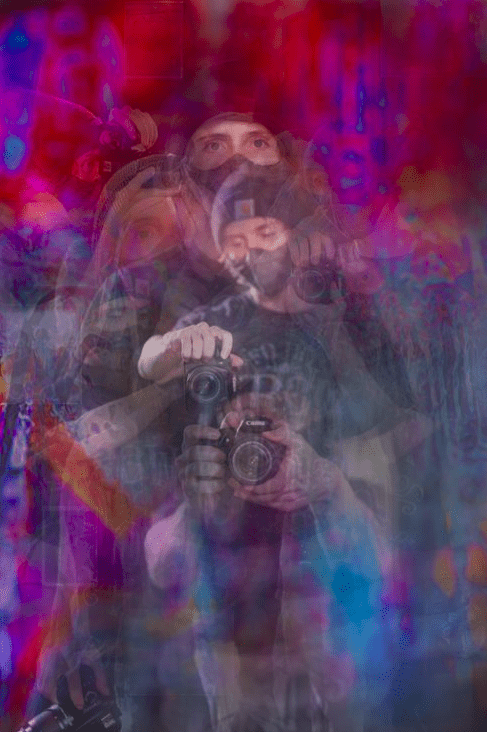 The prints fade over time and lose some of their details as they are exposed to sunlight. Once they have no recognizable detail at all, the photos are moved to "The Forgotten," which Koerwitz explains represent memories that are lost to him.
Koerwitz also explained his inspiration behind the piece coming from his family's history with Alzheimer's disease and dementia.
He said, "I have seen firsthand how these diseases can change people's lives completely, and I think that art is a great way to explore their complexities. It is a powerful subject and I wanted to experiment with different ways of reflecting on the impact it has on the lives of people who suffer from memory loss and of those around them."
Koerwitz addressed the UCCS community saying, "I hope that the UCCS community can gain a sense of the importance of memories and the impact of their loss and perhaps reflect on how it affects their life."
He hopes to pursue a career in game development after his graduation but said his love for photography and artmaking will always be a part of him and his life.
"This piece, with some encouragement from [Associate Professor of Visual Arts] Corey Dreith, is one that I plan to continue working on throughout my career with hopes that as the number of discarded prints in 'The Forgotten' grows, so too does the impact of their meaning," Koerwitz added.
The full list of senior artists in the show include Quinn Birkeness, Brandon Bockstahler, Madalyn Botkin, Shannon Eaton, Paul Horton, Sam Howell, Bec Hurley, Brent James, Brad Koerwitz, Jersey Leigh, Sydney Martinez, Kirsten Merrick, Nathen Moore, Kalyn Spivey, Tran Xuan Thao Vy and Chloe Yazzie Trujillo.
Downtown Colorado Springs' First Friday on May 7 will feature the VAPA seniors' work from 5-8 p.m., and the show is open to the public Saturdays and Sundays from 1-5 p.m. or by appointment.