Mar. 7, 2016
Joe Hollmann
[email protected]
On a night where many exercised their right to vote in precincts across Colorado for a Super Tuesday caucus, few students were preparing and informing themselves to exercise their right at the Student Government Association's debate, held March 1 in the Student Life and Leadership Office.
The debate, sponsored by SGA and the Scribe, featured candidates for presidential and vice presidential positions, director of finance and senatorial positions on student government.
Most of the buzz and debate focused around the three executive positions of the president, vice president and director of finance.
With around 70 people in the room and less than two weeks before the SGA elections begin, the debate served as a chance for candidates to explain their platforms and differentiate themselves from their opponents.
With one of the five tickets dropping out of the president and vice president race just before the debate, and 10 of the 22 senatorial candidates missing, it wasn't just a scarce audience.
The candidates were asked questions regarding their platform, personal skills and experience, as well as disagreements with any university policies.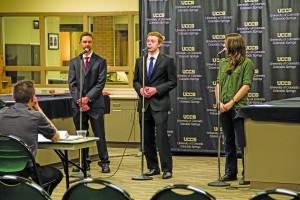 They were also asked their stance on the two ballot initiatives: an increase in the athletic fee and whether or not to continue paying a $4.50 per credit hour University Center bond fee.
The two major themes throughout the night included student involvement, both in clubs with SGA and community outreach and partnership. Almost all the candidates agreed that these two things were crucial to the health of UCCS and ultimately to the surrounding Pikes Peak region.
"We've seen just how much we need student involvement," said vice presidential candidate Erik Nudson.
"We want to be bridging that gap to the community," said presidential candidate Sam Elliot.
At times, it was difficult to see much of a debate though, as every presidential and vice presidential ticket advocated for both the athletic fee and the UC bond sunset fee to pass. The only dissent for the athletic fee on the night came from director of finance candidate Aaron Brownell.
"I do agree it improves our student involvement on campus, but I don't know if (athletics) is our priority on campus," he said.
Most of the differences of the night were highlighted in the candidate's previous experience and leadership ability, not in policy or platforms.
With three candidates currently serving on SGA, some sporting their SLL polos, and others highlighting business and entrepreneurial experience, the largest differences came in the variety of presidential and vice presidential candidates.
Jaxon Setser, freshman chemistry major and one of the few students in attendance with no affiliation with SGA or the Scribe, commented on the lack of debate.
"A lot of what they were trying to say is agreeing but disproving each other," he said.
Many of the candidate's proposed plans, if elected, were striving at solutions, but some students didn't necessarily believe they were practical.
This included an app to help with the incessant parking problem on campus, which would encourage carpooling and alert its users of open lots.
"Some of the solutions are a little unrealistic" said Aaron Glassford, sophomore communication major, "Nobody is going to carpool."
"I didn't feel as if the 'how' was addressed," said junior communication major Louie Caragao.