Mar. 7, 2016
Taylor Garcia
[email protected]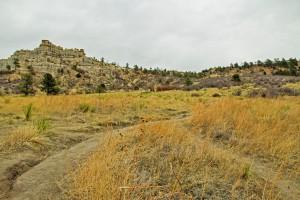 While the closure of Sherpa Trail may be keeping you from adventuring over the bluffs behind the dorms, there are other places on campus to get away from classes, homework and exams.
If you don't feel like exploring to find the trails, there is a map on the Rec Center website that shows the trails on and around campus. And if looking online is too much, Scribe photo editor Megan Lunsford and I went out exploring for our favorite trail.
On the opposite side of campus from Sherpa Trail, down the hill to University Hall, there is a great trail.
If followed all the way to the end, the trail leads up to the top of a bluff about a mile behind Cragmor Hall. The trailhead, with no name or sign, is found on Rimwood Drive just a street over from UHall.
Usually I am all about Pikes Peak and the view of the west side, but the view from this trail looks to the south and east; it's beautiful. Colorado Springs still manages to take my breath away even if Pikes Peak isn't stealing the show.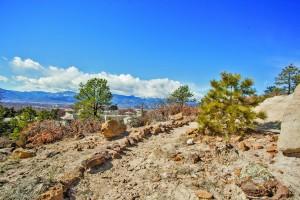 The next trail we wanted to explore is the trail that runs the bluff behind campus. The trailhead begins behind Cragmor Hall and is a bit hidden by the cars, but there are some stairs built into the stone wall that guide you on your way.
With some old jogging course signs and a skeleton of some monkey bars marking the beginning, the trail has a slow incline. Along the top of the bluff we found some graffiti on some abandoned concrete blocks.
And the view. There's nothing like it.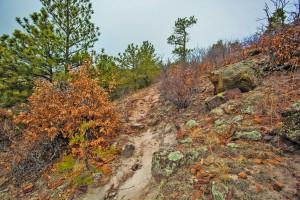 The blue of the sky envelopes the whole view. Pikes Peak stands proudly, breaking into the blanket of clouds just above. A bright spec of red, Garden of the Gods stands out.
There's the campus below your feet, the clock tower stretching to become part of the mountains.
Our view looks like a painting.
This trail, our favorite, runs the length of campus and meets up with Sherpa at the western end.
Down by Four Diamonds, there is a popular hiking trail that leads up to Pulpit Rock. This is another one of my favorite hikes. But it's a steep hike in some places, and the nicer the day the more people, so it's sometimes hard to enjoy the view from the top.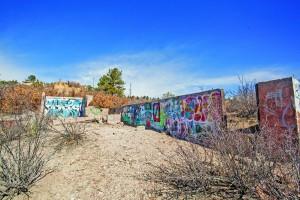 Colorado Springs has an abundance of outdoor activities, but these trails exist on our campus. Remember to let someone know where you're going and wear the proper clothing, but get out and try these paths when you have a chance.