September 19, 2016
Bradley Umpleby
On Sept. 15, the Student Government Association held their third senate agenda meeting for the semester to discuss nine budget advisory committee proposal recommendations for club allocations and Student Resolution 01.
Richard Wickham, president of the Young Americans for Liberty, spoke at the senate meeting, advocating the First Amendment with SR 01, which was authored and proposed to the senate by junior communication major Stephen Bates at the Sept. 1 senate meeting.
At the Sept. 8 meeting, Bates asked the senate if they could re-write the resolution together.
Wickham wants to reinforce free speech on campus through SR 01.
"If I have to write this bill now, I will do that. I will do whatever it takes to get this through," said Wickham.
The senate and Young Americans for Liberty will draft two resolutions of free speech in SR 01, according to Christian Fazel, senator of the Graduate School.
One of the resolutions is to create more free-speech zones on campus for everybody, but with some restrictions.
"We don't want people to disrupt class, so it would be outside areas only, within a certain distance from each building. As the policy stands now, it's only where outsiders and students come to speak their mind. Students can have an unorganized protest, but no scheduled protests," said Fazel.
Tia Luber, assistant university counsel and Chad Garland, director of the University Center both gave free-speech focused presentations explaining student's free-speech rights at UCCS at the Sept. 8 meeting.
The other part of the resolution for the free speech bill involves the right to express one's opinion in a classroom setting, without the threat of being ridiculed by professors.
"We want to make it to where professors are encouraged to allow the free expression of ideas within the classroom, instead of shutting them down if they don't agree with them personally," said Fazel.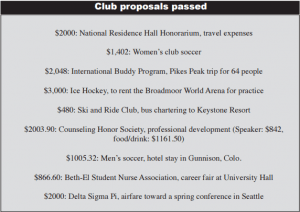 Fazel told Wickham that they will be rewrite SR 01, changing it to SR 02.
After discussing SR 01, nine proposal recommendations for club fees were passed by the senate.
As of Sept. 15, SGA has spent a quarter of their club allocation funds for the year, according to Joseph Conrad, director of finance.
SGA recognized that travel events for clubs are the most expensive, which left the senate with an option to cut travel expenses.
Events that involve travelling take $2000, according to Conrad.
"Travel events are very expensive compared to on-campus events. It's certainly an option to place a higher burden of acceptability on travel, breaking down some of the spending," said Conrad.
Club sports are another large expenditure, according to Conrad.
"Club sports usually need $3000 right away. There's nothing we can do about that, but they are pretty much done. So, if (we) want to cut down a lot of money, travel is where we would do that," said Conrad.
The BAC has spent a total of $29,302.09 as of their third meeting, leaving them with $88,585.91 for club allocations the rest of the year, said Conrad.
"It is a fact we will run out of money. Every club is great because it gets students involved, but, at a certain point, money will run out, and you guys need to be aware of that," said Conrad, addressing the senate.