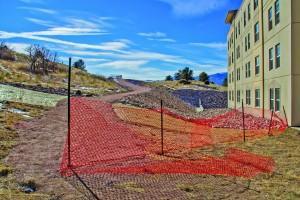 Feb. 15, 2016
Audrey Jensen
[email protected]
A popular route hiked by students and faculty was the Sherpa Trail.
On Sept. 4, students received an e-mail that the trail closed on Aug. 17 "due to an incredibly high volume of rainfall that the campus received over the summer."
In addition, the email said that on Sept. 2, to discourage students from using the trail, the lights were removed so students wouldn't use the trail after dark.
The trail has remained closed since August.
Students living in Alpine Village have two options to get to main campus.
One is the Sherpa Trail, a pathway that runs behind the Rec Center between Alpine Village and Summit Village, shortening the commute to main campus.
The other is the concrete spine in front of the Rec Center. With the closure of the trail, students were forced to use the spine during Rec Center construction.
This semester, there are 728 students living in Summit Village and 523 students living in Alpine Village, said Ralph Giese, director of Residence Life and Housing. Students in Summit Village head toward Alpine Village to get to Roaring Fork Dining Hall.
According to the Trails and S.O.L.E. coordinator Andrea Hassler, .25 miles of the .36-mile-long trail will be reconstructed and redesigned by THK Associates, Kiowa Engineering, and Drexel, Barrell and Company.
The trail will reopen, but that will not be until at least the start of fall semester 2016. When it does, it will no longer be for night use, as the lights will not be replaced. It will also be reclassified as a "recreational" trail.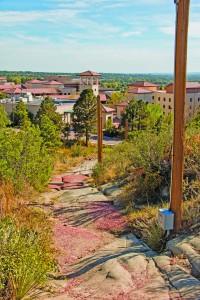 "It needs to be open in a safe and thoughtfully designed manner," Tamara Moore, executive director of Auxiliary Services, said.
Two bids have been placed to redesign Sherpa Trail. The Rec Center reserve account, which comes from student fees, has $70,000 for trail construction and improvements and will be primarily for Sherpa Trail, according to Moore.
"We're required every year per our bond documents, the bond holders require we put money into reserves to back up investments, to maintain facility and quality of their investment," Moore said.
"We have to make sure we have our ducks in a row moving into the fiscal year, we want to know what those solid numbers are so we can prepare for it," Rec Center director Skyler Rorabaugh said.
Rorabaugh said this budget could change depending on what THK finds in their research. Hassler said they have considered applying for outside grants.
Susan Szpyrka, senior vice chancellor for Administration and Finance, made the decision to close the trail after conversations with other campus organizations.
Rorabaugh said the critically damaged section of the trail is 800 feet and is primarily made up of the staircase behind Summit Village.
Hassler said that over time, rills and gullies (channels in the ground) formed and impacted the trail.
"From a lot of the rains…a lot of the rocks in the trail were becoming more exposed. It was happening slowly over time, so we were kind of aware of it, then there was really an exponential difference that happened on the trail."
"When rains came in April and May, there wasn't as much vegetation to hold on to areas around the trail. It continued throughout the summer," Hassler said.
Rorabaugh said that as a trail's traditional path breaks down, people create additional routes.
"There are spaces in that trail that are 20, 25 feet wide. If a puddle forms there you go around it, so we just continue to damage it rather than going into repair. The rain opened areas that took it out of control," he said.
Rorabaugh said the damage to the trail was due in part to the new residential housing construction and increase of traffic on the trail over time.
"I think it's a very fragile habitat, very fragile environment. I think that's been seen all across campus," he said.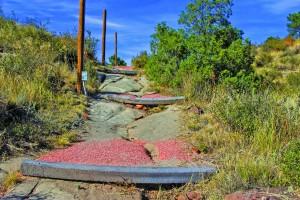 Hassler added that the trail was not designed for water to properly drain and leave the surrounding area un- impacted.
A trail day volunteer opportunity is scheduled for April 30 and a survey will be sent to students as a part of the trail planning process. Students interested in volunteering can contact Hassler.
According to Moore, the Sherpa Trail was a social trail created by students cutting behind the Rec Center.
"There wasn't a lot of thought put into making it a sustainably designed trail; it was a need to get a path from new campus apartments over to main campus," she said.
"We don't get a lot of water here, (but) when we do we get a lot of it really quickly. So it starts to look like a trail, people start to use it as a trail," Hassler said.
"Originally it was not planned. This makes most sense as a path used from Alpine village to get to class or main campus."
After the apartments were built in Alpine Village, Moore said auxiliary services decided to add steps, lighting and a public safety call box since a lot of people started using Sherpa trail.