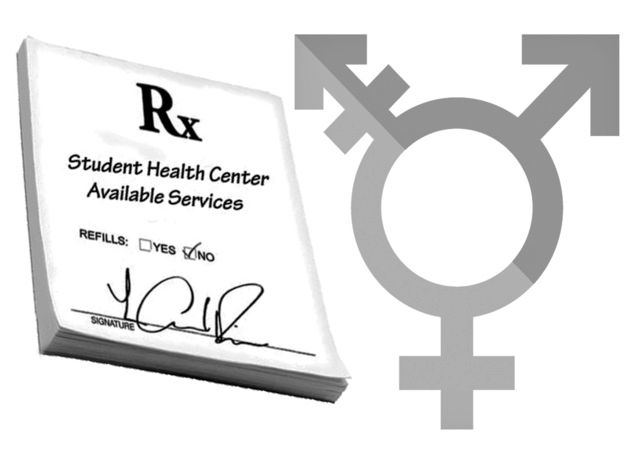 Nov. 9, 2015
Hannah Harvey
[email protected]
The Student Health Center now offers certain benefits to transgender students through student insurance.
Benefits for transgender students include hormone therapy, which is covered under prescription benefits, as well as psychotherapy which is covered by a co-pay for a regular office visit. Surgical transitions are also covered, but the coverage may only apply to a portion of the cost.
Up until this semester, coverage was only offered to staff members that identified as transgender. CU-Boulder has been offering transgender students coverage for the past 20 years, according to Wardenburg Health Services at CU-Boulder.
"If an individual elects to have surgery, there are some portions that are covered, but they have to go through Aetna for that to get a full explanation of benefits," said Stephanie Hanenberg, director of the Student Health Center, in an email.
Hanenberg oversees the insurance plan and said she has been working to obtain coverage for transgender students since she took over the plan six years ago.
Aetna is a health care benefits company that offers medical, pharmacy, dental, behavioral health, group life and disability plans. Student Health Insurance is provided to students via this carrier.
"Aetna decides what aspects are deemed medically necessary and\ what surgeries they do not put in that category," said Hanenberg.
Two insurance plans are offered at UCCS through the Student Health Center: the Student Insurance plan and Clyde's Care. These plans differ in their pricing and coverage.
The Student Insurance plan comes with a premium, co-pays, and deductibles, in addition to coverage to see specialists and to stay in a hospital. This plan applies to more than just on-campus health-related ventures. Pricing differs if a student wishes to obtain this plan for a semester or annually.
Clyde's Care is only for on-campus health and counseling services. With Clyde's Care, students receive Student Health Center office visits, in-house labs and procedures, with the exception of sutures, and six therapy sessions at the Counseling Center, all without any additional cost. Clyde's Care costs $125 a semester.
For more information regarding student health plans, visit www.uccs.edu/shc/insurance.html.