Feb. 29, 2016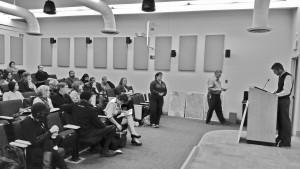 Scribe Staff
[email protected]
It can seem that no one cares, sometimes. It can seem impossible that anything students are passionate about can translate into
actual change.
Well, this editorial, and the plans of Mountain Metropolitan Transit, are here to tell you otherwise.
The Colorado Springs city bus system had planned to cut service to the main campus of UCCS. Their proposal, outlined at a January forum on campus, presented the plan to move the bus stop to the current shuttle stop at Lot 576.
Around 30 people from UCCS showed up to that meeting, and all were vehemently against the plan.
Many of those people, and often those who were the most passionate, were students.
The personal anecdotes of these students had an impact that lasted well beyond the amount of time they spoke for.
UCCS and Mountain Metro representatives met again after the forum, and they came up with an agreement that took ceasing service to campus off the table completely.
What a difference one meeting, and a few passionate students, can make.
Of course, administrative representatives of UCCS did their part, working directly with Mountain Metro to help ensure continued service.
But the glue, the passion, came from students.
We hope this serves as an example for those students who think their voice is not heard.
Elections for student government are the week of March 14. Make sure you vote, because it does matter. Make sure you find candidates who will represent students to the best of their ability, both to the Colorado Springs community and also (and perhaps more importantly) to the administration of UCCS.
That's also what we are here for – the Scribe is run entirely by students, and we would also love to hear the opinions of students who aren't on staff. Give us a phone call, send an email, stop in,write a letter to the editor.
We'll hear you out.
It may sometimes seem like no one is listening. They are, and they will even take action in response to the passionate campus UCCS can be.