Kaylan Hardin
On March 23, student residents across UCCS were required to move out as the shift to remote learning began. For students abroad, their return to the U.S. took a lot of coordination and caution. Teri Forney, a junior at the time, was 5,092 miles away in Frankfurt, Germany when the global pandemic struck.  
Forney, who is now a senior, is working toward a dual degree in international business and finance with a minor in German. Reflecting on her study abroad in Germany, she shared how long she had been planning for this trip, dating back to her senior year of high school when she participated in an exchange program to Munich, Germany.
She started learning German at Doherty High School, where she got the chance to host a German student and then go on a study abroad in Munich. It was the offer of a dual major that struck Forney's interest when applying for UCCS. She knew she would be able to visit Germany again when it came time for her junior year of college.
Although Forney visited Germany once before, this second trip was still an overwhelming experience at first. "Even though it wasn't my first time in Germany, it was my first time in Frankfurt," she said.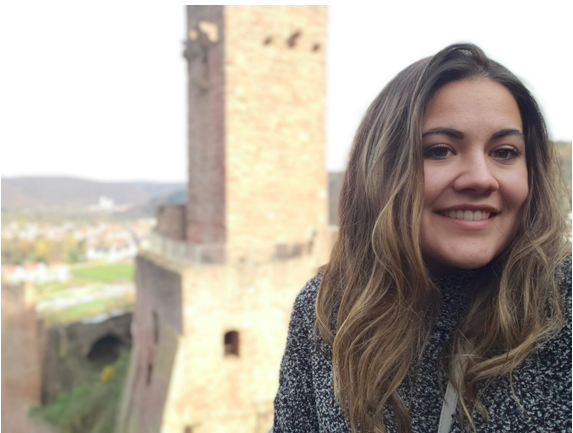 To paint a picture of the city, she said, "Frankfurt is the same size of Colorado Springs, but has more of a city feel. There are skyscrapers and everyone dresses formally."
When asked to compare the U.S. to Germany, Forney likened Frankfurt to New York, in that there are so many different people from different places. "Frankfurt is the international financial hotspot of Europe. You will see different people from different places of Europe all in one place," she said. "I was indulged in the professionalism, how they were dressed and the international aspect."
What took the biggest adjustment for Forney was the time difference, being eight hours ahead of what she was used to. "I couldn't even talk to my family until four hours after I'd wake up."
Her worries dissipated after she settled in at her student housing. "The German students had a welcoming program for all the international students. This really helped me a lot," said Forney.
The other students Forney met became like a family to her. "Most of the people I met were from Israel, Sweden and Denmark. It was cool to indulge and see what the people were like from different places. We were born and raised in completely different places but had many similarities."
Forney was visiting her old host family in mid-February when she first heard about COVID-19. "At this time there were no cases to reach in Germany. No one gave a second thought at that time," she explained.
It was not until the second week of March when Forney began to get messages from UCCS. "UCCS asked me to come home. I remember visiting my host family again at this time. I was planning on just staying for a weekend and then my school sent out notice to quarantine. So my weekend visit turned into a four-month stay."
Forney added, "I wasn't at a health risk, so it would be easier to just stay in Germany. Trump had shut down the borders at this time, too. My parents back home allowed me to stay because the chances of me getting the virus would have been higher in the U.S. than in Germany."
Germany's number of COVID-19 cases went down in June because, according to Forney, testing was faster in Germany, masks were required immediately, contact tracing was applied to get people tested and hotlines were set up everywhere. "Germany was more efficient; it is also smaller than the U.S. so this technique worked well given the small population."
Forney came back home the first day of August, two weeks before school started. She spent these two weeks in quarantine.
Although she stayed in Germany through the remainder of last school year, there are still things Forney did not get to check off her bucket list while there. "My plan was to explore Germany my last four months. I was supposed to hit 22 different countries but I had to cancel," she said.
Forney plans on returning to Germany this coming summer and plans to move to Europe after getting her master's.