Students will soon transition from summer to the fall semester with a week of energizing entertainment put on by Student Life.
DisOrientation Week will take place across campus this week, Aug. 22-27. These free events for all students range from music and dancing to club showcases and crafting.
Haley Russ, Student Life's coordinator of student activities, said students can expect a farewell-to-summer-themed week celebrating the start of classes.
"We try to do some really big events to really bring the energy to campus. The theme this year that we've gone with is 'End-of-Summer Vibes,' so the sun is setting on summer kind of thing. We have kind of that Flower Power design," she said.
Russ hopes many students looking to get involved on campus will attend this year's events. "I think people are really excited to have this sense of normalcy. I think we're going to have a lot of folks come out," she said.
The Concert on the Lawn kicks off the week today from 6-9 p.m. on the West Lawn. DJ Russell Amir will open for the alternative indie band Absofacto. According to Russ, Student Life will serve fair food and many organizations tabling at the event will provide activities.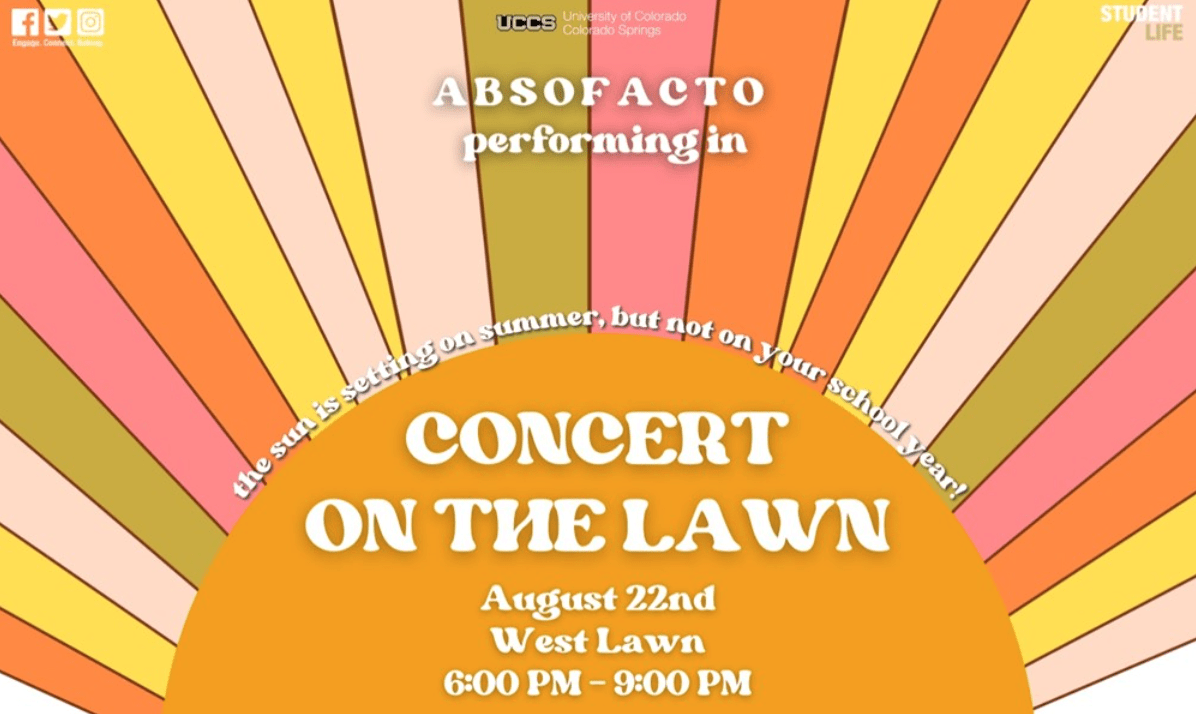 Tuesday has been termed "Commuter Day" by Student Life. Commuter students can enjoy some fair food at the Commuter Lunch from noon-1:30 p.m. at the Upper Plaza. Then, Commuter Kickoff will take place from 4-6 p.m. at El Pomar Plaza.
Later on Tuesday, the Rec Center will hold a dodgeball tournament from 7-9 p.m. Students can join the tournament individually or as part of a team.
FEST! will take place on Wednesday from 7:30-9:30 p.m. in Berger Hall. Russ said FEST! will feature all of UCCS' multicultural organizations and a candy station with treats from various cultures.
Thursday will begin with Meet the Greeks, an event to engage with fraternities and sororities, on the West Lawn from noon to 3 p.m.
Comedy mentalist Sean Bott will perform Thursday evening from 7:30-9 p.m. Students can attend this brand-new event in Berger Hall.
"He's like a hypnotist, but he doesn't hypnotize people. He is kind of like a magician, but it's so cool," Russ said.
The Glow Dance is Friday from 8-11 p.m. in Berger Hall, where students are encouraged to wear white or bright colors.
"Folks, if they want, can get kind of splatter painted before they go into Berger Hall," Russ said.
The first UCCSlead Game Changer of the year will be held Saturday from 10 a.m.-3:30 p.m. in Berger Hall. Then, during Crafternoon Planting, students can paint pots for succulents at Summit Turf from 3-5:30 p.m.
For more information about DisOrientation Week, students can visit Mountain Lion Connect or email Russ at [email protected]. Student Life also has text alerts for announcements and updates on all events. Students can join by texting "students" to 71444.