5 March 2019
Brianna Kraemer
    The Hyperfalcos club consists of about 15 students with many majors and backgrounds, that work together throughout the year preparing for the competition in California every July.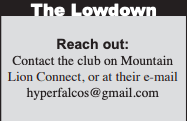 Their goal is to make the fastest functioning "pod," which replicates a hyperloop, a futuristic, proposed mode of transportation. The pods are designed by the team all year, and if they make it to the final competition round in July, they race their pod through a large track tube that is a little more than a kilometer long, hoping for the fastest time.
    Emily Eby is a junior at UCCS majoring in mechanical engineering. She is the mechanical braking leader of the team and explained what the team prepares for throughout the year.
    "We worked over winter break on it. We had a preliminary design brief that was due around October and then we had the final design brief that was due in January. Then we had a presentation with SpaceX a week and a half ago," said Eby.
    The team waited for most of February to hear back from SpaceX to see if they made it to the top 20. They unfortunately did not make it to the final round, but club president Nate Ylitalo did not let that stop them from continuing to pursue their goal.
    Ylitalo said the team would rather be 100 percent prepared before building something that could have a massive impact in the future.
    The final 20 contestants from around the world will head to California in July where they will first do final safety checks with the judges to make sure their design has no flaws and no possibility of exploding.
    Then the teams will test their pods and the winning team has the opportunity of an internship with SpaceX, which Elon Musk runs. Their design may also end up becoming part of any future hyperloops created for public use.
    A few major difficulties the final teams encounter include getting disqualified during the safety checks because the judges are extremely strict on them. The few teams that get to test their design sometimes face the difficulty of braking after getting to such a high speed.
    There is a pit at the end of the tube in case there is an emergency and the pod does not stop in time.
    The UCCS HyperFalcos' design was about five feet long, one of the smaller ones designed. Some teams create pods that are 500 pounds, but the HyperFalcos believe it was to their advantage to have a smaller and lighter design.
    With all of their calculations completed, they were planning on their pod reaching 313 mph in the tube, which would have been an all time record. Last year's competition set the record at 300 mph.
    The HyperFalcos design this year used levitation instead of friction like most teams. They have used traditional and compression breaking as well as magnets to create a propelling force to slow the pod down. They put a lot of hard work and time into this and have been doing so for the four years the club has been at UCCS.
    Ylitalo has led the team in the right direction since he was elected president about a year ago. He graduated from UCCS with a bachelors in mechanical and aerospace engineering and is now working towards his masters of engineering and space operations at UCCS. He is hoping the club continues to grow and that more people from all majors have an interest in joining.
    "I really just want to convey that you do not have to be an engineer, you do not have to be experienced, anyone can join," said Ylitalo.
    They are in need of business and communication majors along with web design, because the club is almost like a start-up business.
    The more people and minds that are able to come together to strategize and think outside the box, the better chance they will have at making it to the top 20 next year.