4 September 2018
Robert Ryan
    As UCCS athletics continue to grow and look to build on last year's momentum, additions to the staff show continued dedication to further progress.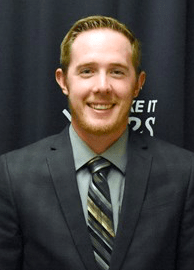 Earlier this month UCCS Executive Director of Athletics Nathan Gibson announced Eric Mason as the school's Sports Information Director.
    "Eric has worked in many different capacities for Mountain Lion Athletics over the years and he has proven to be someone who brings great attitude and effort in all that he does. He is also a Mountain Lion through and through and I know that he will continue to bring passion for UCCS to work with him each day," said Gibson according to a release by Associate Athletic Director Sarah Meier. "I am very excited to have Eric officially start as a full-time member of our athletic department."
    Mason is no stranger to UCCS and its athletics program. Beginning his studies at the school in 2012, he graduated with a bachelor's degree in 2016. Following graduation, Mason began aiding UCCS athletics both as an intern and a graduate assistant in 2017.
    "[As a graduate student] I helped with quite a few of the teams: baseball, softball, soccer and cross country," said Mason in a phone interview. "I helped with scheduling, keeping stats, and general sports information. I also helped with general game day operations and streaming the events."
    Mason has also had a role as a Sports Coordinator at the Briargate YMCA, managing and improving sports programs and increasing participation.
    Now working as a full-time member of the athletics department, Masons responsibilities will continue to increase as the fall sports season kicks off for the UCCS sports teams.
    "I'll be doing a lot of game recaps and press releases on the teams events. I'll also be keeping statistics for mens and womens soccer, as well as cross country."
    Mason was an attendee at the 2018 NCAA Leadership Development Seminar, which strives to "assist with the transition to life after college sports, to foster the growth of the next generation of leaders and to encourage athletics administrators to translate lessons learned through competition." He  is currently continuing his education at UCCS, planning to graduate with a Masters of Business Administration in December 2019.
    Mason makes clear his dedication to UCCS and Colorado Springs.
    "After school, I'll definitely stay here and continue working as the Sports Information Director and getting experience in athletics. UCCS has been great to me over the years, and I was born and raised here in Colorado Springs," said Mason. "After I had my first day here in the athletic department two years ago, I knew this was a place I wanted to be a part of.  Everyone from staff, to coaches, to administration have been nothing but supportive since my first day as an intern."