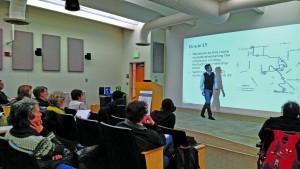 Jan. 25, 2016
Jonathan Toman
[email protected]
It was a frustrated group of around 30 students, faculty and staff that attended a public meeting on Jan. 21 to discuss a plan that would cease city bus service to main campus.
The meeting, held on campus and one in a series of five that will be held throughout Colorado Springs, is part of Mountain Metropolitan Transit's effort to seek public opinion on proposed changes to several routes throughout the city, including those that service UCCS.
Proposal
The portion of the proposal that impacts UCCS calls for the elimination of service on Mount View Lane through the Cragmor neighborhood. In addition, the bus would no longer stop at Centennial Hall, instead it would stop at a new transfer hub off Nevada Avenue where the UCCS shuttles currently pick up students.
Reasons for the changes outlined in the proposal include high cost for little ridership, lack of timeliness and conflicts with UCCS shuttles outside of Centennial Hall.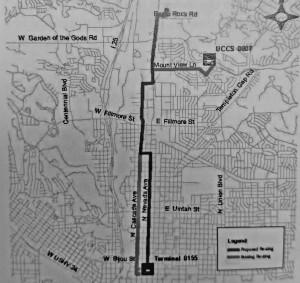 "Ridership on Route 9 to the campus (at Centennial Hall) is also not significant, and does not warrant continuing to serve the main campus when the alternative is to provide high-frequency service to the transfer hub off of Eagle Rock Road," the proposal booklet explains.
Brian Vitulli, transit planning supervisor for Mountain Metro, started the meeting with a presentation that outlined the proposed changes. He explained that the proposal comes in part from a 2013 operations analysis that established high frequency corridors throughout Colorado Springs, one of which is Nevada Avenue.
"We are looking to make (the metro bus system) more sustainable, more efficient, more on time," he said.
At the proposed hub, students would then be able to transfer to UCCS shuttles to get to main campus. But there are twelve weeks during the year where students would not be able to utilize UCCS shuttles because school is not in session.
"While (the proposed changes) are tough on some individuals we realize that we are looking at the greater good of the community," Vitulli said.
Response
After Vitulli's presentation, the meeting was opened for comments, all of which were against the proposed changes and were followed by applause from those gathered.
Student Sara Bonner spoke first and explained that the proposed change "is going to make it so I can't get to campus in off-semester time."
Bonner added that due to parking and shuttle issues on campus, there are ways to expand bus ridership at UCCS including increased marketing to students.
"That seems like a better option instead of cutting off access for some of the students," she said.
Student Cynthia Barram echoed Bonner, explaining that the bus system is her only safe way to get to school and back and that school shuttles can often be overcrowded.
"Not being able to get here to finish my degree would be more than an inconvenience," she said. "Even though we might be the minority on this issue, I ask that you consider us because we need this."
Catherine George, student and president of the International Buddy Program, highlighted the impact the proposal would have on international students that come to UCCS.
"Oftentimes, our international students feel isolated, they feel stranded without their own public transportation," she said.
George explained that Mountain Metro is a resource for international students to explore what Colorado Springs has to offer and to gain more cultural exposure during their visit.
The plan would "severely limit autonomy for international students," she said.
According to the Global Engagement Office, 426 students from 49 countries came to UCCS in the 2014-15 academic
year.
Carole Huber, senior instructor in the Geography and Environmental Studies department, highlighted students
who may not bring a car to campus, as well as those who bike to campus and are reliant upon the bus in case of bad weather or a flat tire.
"To not bring the bus up to the main campus would just be a travesty," Huber said.
Susan Szpyrka, senior vice chancellor for Administration and Finance, outlined the official UCCS stance on the proposed changes: opposed.
She highlighted changes that UCCS has made in support of the city bus system, including partnering to help achieve a grant, encouraging curricula and faculty that deal with mass transit and changing to a one-way road in front of Centennial Hall to encourage shuttle and bus ridership.
"We believe UCCS has been a very good partner with Mountain Metro," Szpyrka said. "We've incorporated improvements at our expense, not at (Mountain Metro's) expense."
Szpyrka said UCCS thinks their concerns have not been heard, that the area where UCCS shuttles operate was never intended as a transfer station and that the campus shuttles are not designed for non-UCCS commuter use.
She added that accessibility for disabled students would be cut down due to the proposal and a sustainable transportation option for students would no longer be available.
"It seems like going backward in time," Szpyrka said after her presentation.
Tom Huber, professor in the Geography and Environmental Studies department, offered an alternative plan that would have the city bus pick up and drop off on Austin Bluffs Parkway, saving time currently used to get to Centennial Hall.
Craig Blewitt, Mountain Metro director, attended the meeting.
"UCCS is a key partner, a key activity in the community, and we want to support UCCS," he said. "That's why we hold these meetings is to get input, to figure out the best way to serve the community with the resources that we have."
Feedback on the proposal, collected from the public meetings, the Mountain Metro website and social media, and their customer service division, will be taken until Jan. 30. A recommendation will come by the middle of February, and the changes will be implemented by May 1.