The fifth annual Sustainability Summit on Nov. 11 consisted of 12 presentations by staff and students that displayed new plans and goals to make the campus more sustainable.  
Interim Director of Sustainability Kimberly Reeves started the Sustainability Summit with a presentation on the STARS + UCCS plan. This plan involves four core strategies including leadership, curriculum, research, operations and engagement.
An idea shared to help with sustainability on campus was transportation and finding a way to limit the number of students driving to campus. This will involve working to increase students' use of transportation services such as the on-campus shuttles and Metro.
Four UCCS students presented a project tackling food waste. Mark Karstensen, Kyle Kuniyoshi, Mike Olivier and Matt Quist discovered a way to use food waste to recover gas that can be used for cars, grills and generators. They are currently collecting the necessary materials and tools with the goal to understand and spread awareness, as well as reduce food waste in landfills.
Wendy Kisicki and Julia Bullock, part of Team Green in the Kraemer Family Library, touched on their goals with the Library Sustainability Plan. The library's plan was drafted in 2018 and implemented recycling/composting, staff training and workflow, technology and sustainable procurement (what they are buying/using).
     They also discussed focusing on literacy and advocacy, collaboration and library student employment engagement which included hiring a sustainability student.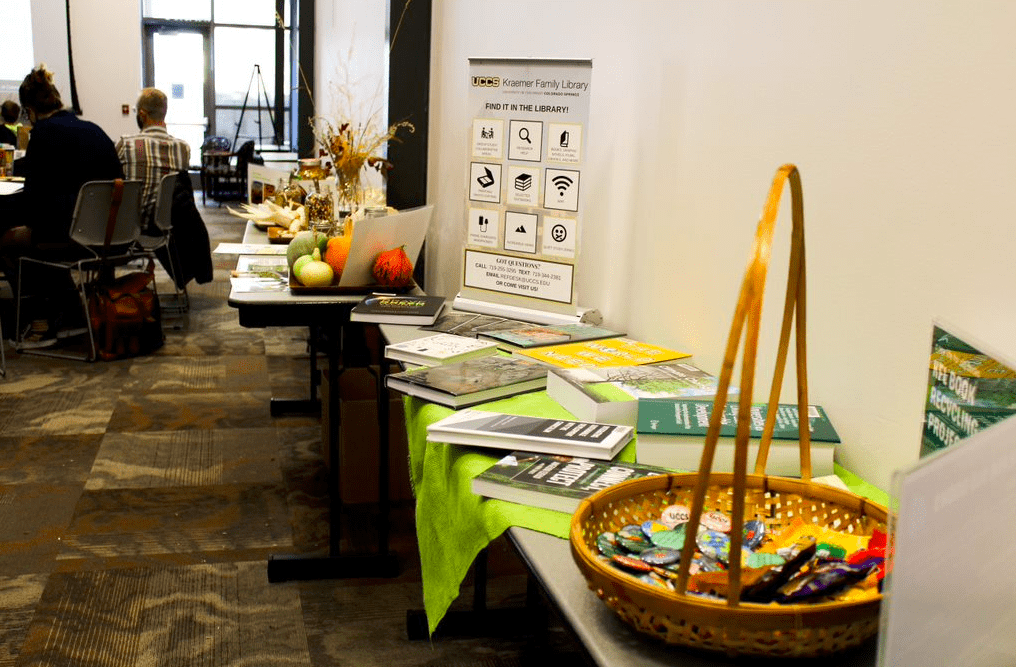 Tracy Gonzalez-Padron, director of the Daniels Fund Ethics Initiative and professor of marketing, explained the concept of global goals and specifically, the UN's 17 Sustainable Development Goals. Integrating UN-SDGs into the curriculum is a key concept in the College of Business.
Maggie Gaddis, a lecturer of geographic and environmental studies, explained the importance of students contributing to scientific research and how to become more involved in research. iNaturalist is a website that allows the public to participate in scientific research through photographs.
Daisy McGowan, director and chief curator of Galleries of Contemporary Art, highlighted the Windmill Project as part of GOCA's ongoing Art WithOut Limits program. GOCA is working with Black Forest Institute/M12 Studio to finish their project called Fireside Dialogues.
Michèle Companion, a professor of sociology, discussed the idea of Greening the Urban Landscape. She spoke on the topic of food security and how everyone should have physical, social, and economic access to food.
A key component to this idea was that people residing in urban areas are impacted more because of the rising sea levels and larger amounts of precipitation.
Jamie Dunston, manager of the UCCS Farm, covered the importance of the farm and what they bring to UCCS. The farm produces crops that are used in UCCS dining halls and hosts events such as a plant sale in late spring.
Dunston also discussed climate change and how it affects the growing of certain crops. SOLE was the final presentation, conducted by Chris Ertman and Natalie Church. They discussed multiple ways for students to become involved in outdoor activities and the classes they offer.
They also described their new project, the SOLEStainable Gear Repair Station, which allows students to learn how to repair items or fix any damage to their gear.
There were three other presentations including "Climate Storytelling" by Dylan Harris, "Household Composition" by Esther Lamidi and "National Parks and Intentional Exclusion of Minorities" by Natalie Rodriguez.
Patricia Cameron, the keynote speaker, was accompanied by two moderators: Kayla Williams, a graduate student and Irina Amouzou, an undergraduate student. Cameron explained her journey of participating in outdoor activities.
She also answered questions in a Q&A format and then expanded on her project Blackpackers, a backpacking gear rental company with a goal of supporting economic equity in outdoor recreation.
     The Sustainability Summit presentations can be viewed on the UCCS website.