Move over Elon Musk, because electric power isn't limited to Tesla vehicles. UCCS' own High Altitude Race Engineering club is here to prove it.
Originally under the name Mountain Lion Motorsports, the club began recruiting people from all majors in 2017. Together, they created a fully electric, rear-wheel drive and lightweight race car.
The club uses up to three spaces at a time in Osborne Center for Science and Engineering, including the machine shop. Senior economics major and club president Aidan Westbrook manages the day-to-day operations and emphasizes the vast inner workings of the club.
"The joke is our name is High Altitude Race Engineering, we do 99% engineering, 1% racing. We only race once a year," he said.
Although the club dedicates most of its time to engineering, they hope to encourage anyone interested in motorsports to join the organization. Along with building a high-performing electric race car, the club has constitutional measures to encourage anyone and everyone to get involved.
"We wanted to be a club that could put together a successful engineering competition team, regardless of your academic background, major or your skillset. This is not a club for just engineering or business students; we have art majors, we have filmmaking students, we had, for a while, pre-law students," Westbrook said.
While leadership focuses on managerial tasks, engineers and fabricators in the machine shop work to get a product on the track. Senior engineering major and mechanical lead Bobby Carter explained how the team works on the engineering goals to get the car ready for competition.
"Right now, we kind of figured out big picture goals for this upcoming competition, we have decided to basically reuse the suspension from last year and we're just going to redesign the frame and the accumulator," he said.
Getting the car to competition and down the track safely isn't the only goal the team hopes to accomplish. They also want to create a legacy.
"We're trying to build a car and a team. We've worked really hard over the last four years, so when we graduate, we don't want it [the club] to just go away," Carter said.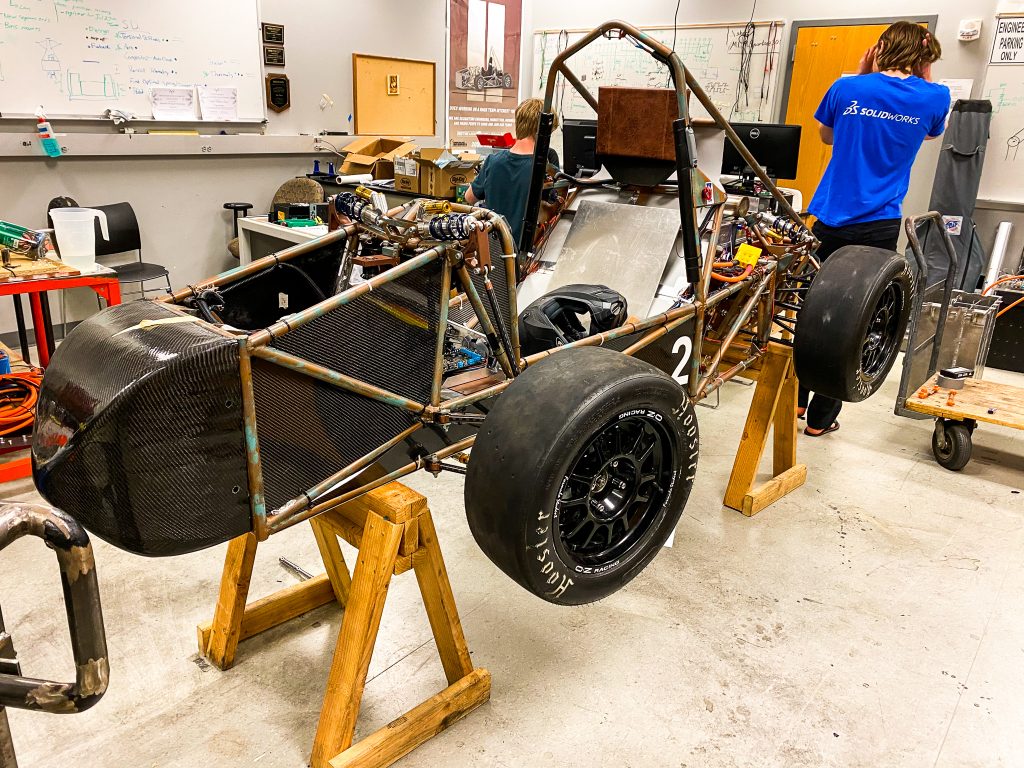 High Altitude Race Engineering aims to prepare students in the club and on campus for the future of transportation: electric. With technological advancements in battery electric vehicles, there is no denying that it will be a big part of our daily lives. By building an electric race car as compared to an internal combustion vehicle, the club hopes to prepare its members for that transition.
"It would be a disservice to students to do combustion because the future is electric vehicles so we might as well prepare students for the future. It's not that I want to be a part of a team that someday wins [at competition], it's more that it's such a service to students to get that real-life experience," Carter said.
High Altitude Race Engineering has its challenges, however. Like other clubs on campus, retaining members is one of the biggest problems the race car builders face. But that doesn't stop them from accomplishing their goals of building a respectable car, even when their team of 20 is up against teams of 60 at competitions.
Senior mechanical engineer Sean Harper sees the blessing in having a smaller team.
"Yeah, it's a pain to be short staffed, but it's great because you'll have somebody design the frame, but they'll know the whole electronics side, when compared to other teams who design maybe one bracket but don't know anything else about the car," he said.
That's not to say the club is denying the amount of work involved in creating a race car and getting the message out, but they emphasize the satisfaction that comes with that work ethic.
"It's a lot of work … but we wouldn't do this if it wasn't fun," Westbrook said.
If you are interested in joining High Altitude Race Engineering, contact [email protected], or come to a meeting in Osborne A-301 on Fridays at 4 p.m.