Feb. 29, 2016
Audrey Jensen
[email protected]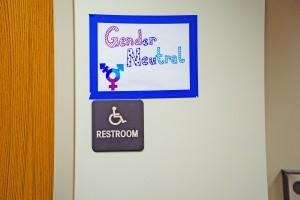 The athletic training room that was on the third floor of the University Center has been replaced by two new conference rooms and a gender-neutral bathroom.
This is the first gender-neutral bathroom in the UC, one of at least 15 gender-neutral bathrooms on campus, according to Jesse Perez, program director of the LGBT Resource Center.
Brian Garris, graduate assistant of student affairs and higher education in MOSAIC, said it was an issue that there were no gender-inclusive restrooms in the UC.
"It's a problem because it's the center of social life on campus. That was the motivation behind talks on bringing one (to the UC)."
"We really wanted to create safe spaces for trans-people, because often times it can be a health issue, they may choose not to eat or drink to avoid using the restroom, or not use the restroom all day," Garris said.
According to Perez, transgender students, based on their gender identity or expression, will avoid the restrooms.
"There are other important things students need to be concerned about like their studies, not if they will be uncomfortable or harassed."
"Not to say that it happens on this campus, but not having an inclusive space sets up something like that to happen," Perez said.
Garris said this restroom is a great option for students and is open to anyone who may be uncomfortable using the main restrooms.
Perez said students and members of the Colorado Springs community visiting UCCS often ask where a gender-neutral bathroom is in the UC when attending events. The additional conference room space will also help, he said.
"In addition to a need for a gender-neutral restroom on campus, there's a need for more student space. A lot of clubs and organizations are running into not having enough space for meetings or events or stuff. So this meets the need for that as well," said Perez.
Despite the fact that the restroom is on the third floor, Perez said it was the first opportunity to open such a restroom.
"I know that (the UC) talked about the possibility of adding a gender-neutral restroom to the main floor that may happen at some point in the future, (but) everything's pretty packed tight down there."
"It was just the opportunity and where the space opened up," Perez said.
Garris said there may be problems finding the restroom, but students will adjust to its location.
"Once people know that it's there, that it's available to them, I think (students will use the restroom) because there's so much going on in the University Center typically, it's a much closer option," Garris said.
Perez said the location may require extra advertisement for students to learn about the restroom.
"I know it's not a super visible and high traffic place for students," said Perez.
On the LGBT's Resource Center website, there is a list of gender-neutral bathrooms available to students on campus, but the website is still being updated, according to Perez.