With a final score of 930, the UCCS Mountain Lions Women's Golf team placed second overall out of nine teams in the Rocky Mountain Athletic Conference (RMAC) tournament April 18-20.
The tournament took place at Wigwam Golf Course in Litchfield Park, Arizona.
In round one, the women's golf team carded a 320. They ended the second day of play with a 309 and only four strokes separating them from the Colorado Mesa University.
In the final round of play, the women's golf team advanced their way from fourth to second place.
Freshman Emily Shimkus recorded rounds of 79, 75 and 67. The four-under par 67 in the final round of play earned her the individual title after compiling a three-round score of 221.
"Day one, I was tied for 13th. After day two, I was tied for sixth place, and after the third day, I moved up and won the tournament individually out of 60 players," Shimkus said.
Shimkus' round of 67 tied Julia Baroth's March 24, 2019, school record for the lowest round in school history. It is the second lowest tournament score behind Baroth's 2018 RMAC Championship score of 217.
Shimkus explained that due to COVID-19, players entered their scores online after every hole during the tournament. "You can also see the leaderboard, who is winning and each of the positions. It can kind of mess with your psyche if you're looking at the ranking while you're playing."
So, Shimkus did not look at her score — at all. That is why it was such a surprise to her when she found her entire team waiting for her after her final hole and everyone was crying and cheering.
"I walked up, and I was like 'Yeah, I played well. I played really well. What's going on though?' And that's when they told me I was leading the tournament. I had no idea, so that was exciting to come off and have my team tell me that," she said.
According to Shimkus, her dad is the reason she first got into the game of golf.
"My dad is a golf course superintendent. He taught me from the time I was really little. It was kind of our thing that we did together while I was growing up. My love grew for it as I got older," Shimkus said.
     Reflecting on her first season of college golf, Shimkus said her play ranged a good amount from tournament to tournament.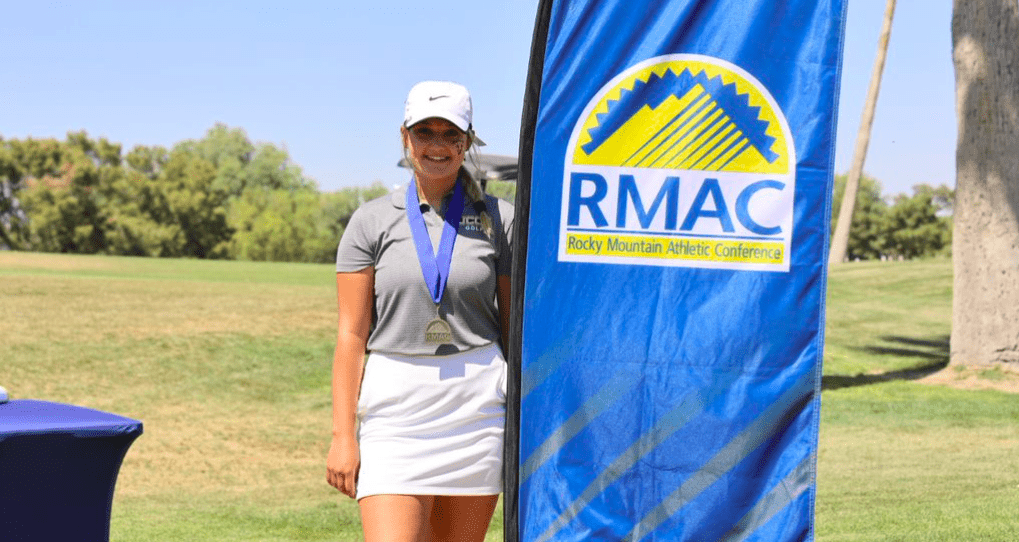 "This was a transitional year — getting used to being in a whole new state, because I'm from Arizona, and getting used to classes. I played pretty well throughout the season. Getting that RMAC individual win was a super exciting experience, especially as a freshman," Shimkus said.
"I'd like to shoutout everybody on my team. I think we all played so well this year, and none of us would be there without one another. We are all such an equal part of this team, and we build each other up every single day," Shimkus said. "At the RMAC tournament, I really looked around before we got started and I felt so grateful to be in my position, to be able to play. I felt such an extreme amount of motivation from my teammates cheering me on."
Shimkus will be continuing with the UCCS Women's Golf team in the fall.
"Over the summer I plan to keep working on my game and play some tournaments individually back home. Next school year, as a team, I think we would like to see us win RMAC. We ended the season strong, so I think we want to keep pushing over the summer and pick up where we left off," she said.
Junior Dakotah Kreil finished the tournament in a tie for eighth place overall with a 231 (79, 76, 76).
Sophomore Julia Eaton procured 238 for the tournament after scoring 78, 80 and 80. Eaton tied for 17th place overall and registered 32 pars and two birdies.
Senior Regina Dillon placed in a tie for 23rd after firing a 240 (84, 78, 78), including four birdies.
Freshman Samantha Saile's score of 255 (90, 82, 83) put her in a tie for 45th place.
Westminster College won the tournament with a final score of 927.
All statistics were found on the Go Mountain Lions webpage.