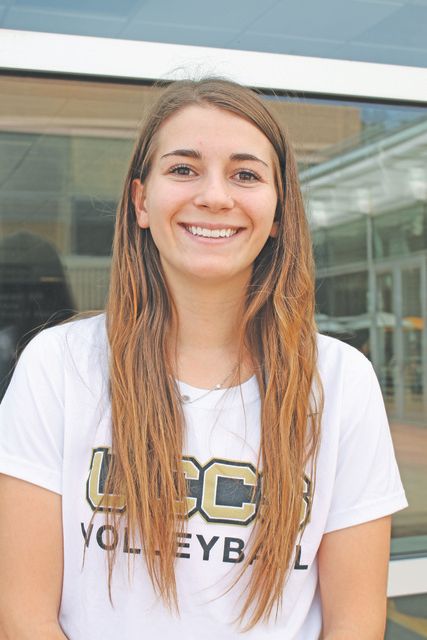 Oct. 5, 2015
Taylor Garcia
[email protected]
If you've ever hiked a 14er, you know it's not easy, even if you are in shape. It takes will power to push yourself past your limits. But once you reach the top, all that is forgotten in the beauty of the view and the glow of the accomplishment.
The UCCS volleyball team climbed a 14er on Sept. 22 when they beat Metro State 3-1 in Denver after falling in the first set. It was the first win against the Roadrunners since 2007, and the first time the Mountain Lions won on Metro's court in team history.
The team's record is 9-5 overall and 4-1 in conference entering play on Oct. 2, good for second in the RMAC.
"Our goal during preseason was to end the season fourth in conference and we keep that in mind as we play," said sophomore middle blocker Taylor Hamilton.
The win against Metro was important for the Mountain Lions' confidence. Two of the early season defeats for UCCS came after losing the first set.
"We are succeeding because of the work each team member puts in, on and off the court each day," said head coach Chrissy Elder.
While the team may be young (one senior, outside hitter Kim Catlett) the underclassmen are pulling their weight. Hamilton had eight blocks and a team high 12 kills against Metro, while sophomore libero Natasha Habert posted 13 digs.
Habert and Hamilton both look to Catlett for guidance, while junior Cassidy Bush adds another level of support to Hamilton, as both play middle blocker.
"(Bush) works hard, she's well rounded and it helps that she is my position," Hamilton said.
The win at Metro came three days after falling to Colorado Mesa in five sets at the Gallogly Events Center, a loss that both Habert and Hamilton said helped them against Metro.
Rematches against both teams come later in the season, as UCCS travels to Mesa on Oct. 23 and Metro comes to the Gallogly Events Center in the last regular season game for the Mountain Lions on Nov. 14.
"I am really proud of how hard our kids fight and how hard they work each day without question," said Elder. "It's cool because that's what we want to be known for and they are proving it to everyone."
"We are a genuine team and genuine people. We want to share the excitement of winning with the school and student body," said Habert. "We want to share the win."
The Mountain Lions are next at home on Oct. 16 against Western New Mexico at 7 p.m. A match against New Mexico Highlands follows on Oct. 17 at 5 p.m. Both games are in the Gallogly Events Center.