18 September 2018
Brian Blevins
    Senior outside hitter Alyssa Brinton and sophomore setter Raelynn Edge are performing strong early in the volleyball team's season.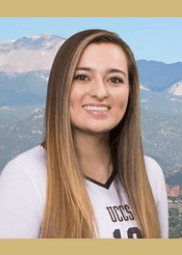 As previously reported, after the Mountain Lions' showing at the Washburn Invitational Tournament on Sept. 1-2, Brinton received a spot on Washburn's All-Tournament team. Edge, the following day, was also honored, named by the Rocky Mountain Athletic Conference (RMAC) as Setter of the Week.
    In four matches prior to the Washburn Invitational, Edge averaged 11.7 assists per match, the second most of any player in the RMAC for that particular weekend. Her totals of 212 assists, 32 digs, 11 kills and two aces earned her the RMAC's Setter of the Week award on Sept. 3, and put her in second place in the league for assists, with a season average of 10.8 per match.
    The Lady Mountain Lions sat with a 2-9 record last weekend, pending Friday and Saturday's results against rivals Fort Lewis and Adams State. That record had them in the No. 15 spot in the RMAC, with a 0-3 record in conference play.
    UCCS' Women's Volleyball team started the season with a rough finish to the Washburn Invitational, followed by three straight losses in conference play, falling in four sets to Colorado Christian and Regis Universities, and losing in three sets to the Colorado School of Mines, which is ranked No. 25 in the nation.
    On Friday, the team takes to the road looking for a win, and will confront Black Hills State in Spearfish, Nebraska, followed on Saturday by a match against South Dakota School of Mines in Rapid City. The weekend is a continuation of conference play, with both opponents being RMAC rivals.
    At the time of print Black Hills State was ranked No. 13 in the RMAC with an 0-2 record in-conference and a 3-6 record overall. South Dakota School of Mines sat at No. 8 in the RMAC, with a 1-1 conference record, being 3-7 overall at the time of print.
    Friday's match against Black Hills State begins at 7 p.m. and Saturday's against South Dakota School of Mines begins at 3 p.m. Both matches will be streamed live, and will be accessible via links on gomountainlions.com.