November 14, 2017
Scribe Staff
   We've probably all been there.
   Speeding to class at 7:45 a.m., panic makes us travel 10, maybe 15 miles over the posted speed limit, especially on Austin Bluffs Parkway.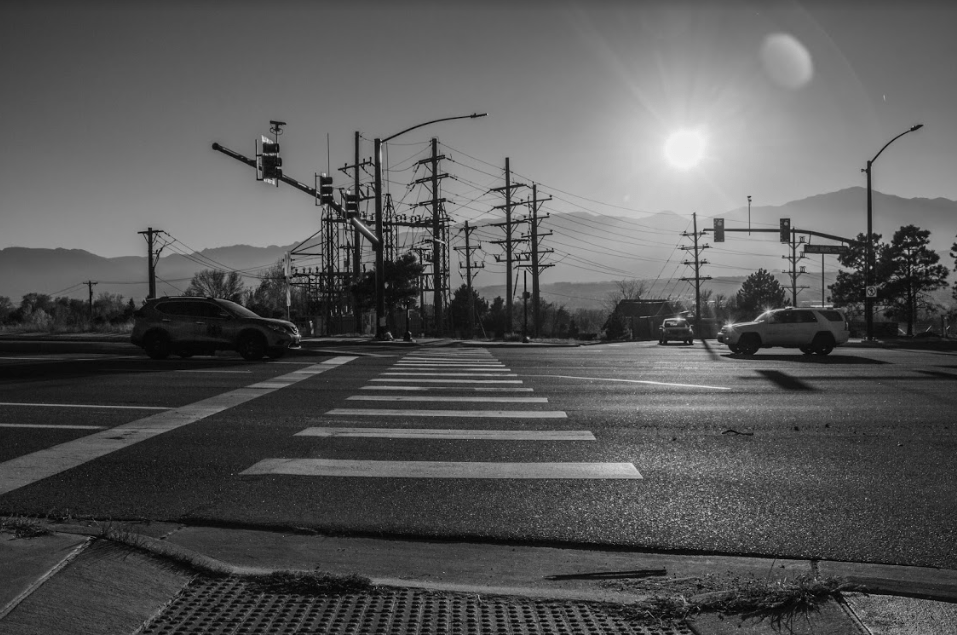 We, along with non-students who travel down this road, think that we can drive like this without facing repercussions. But this is sadly false.
   On Oct. 29, 19-year-old Zack Schlagel was killed in a hit and run on Austin Bluffs and Stanton Road.
   The driver, Victor Fernando Garcia, a non-student who had been drinking prior to the accident, was going about 30 miles over the speed limit, traveling at 70 mph eastbound on Austin Bluffs Parkway, a 40 mph zone. Schlagel was crossing the street legally with two friends as the driver ran through a red light.
    Austin Bluffs is often treated as a superhighway by the drivers who use it. These drivers often time go 10, 20 and, yes, 30 miles above the posted speed limit.
    But this is dangerous, of course for the pure reason of speeding, but also because Austin Bluffs is a high-traffic area, and students like Schlagel often cross the street to leave and return to campus.
   As students and residents of the local community, we can do better in preventing tragedies like this from happening again.
    We should follow the posted speed limit, practice more caution in driving and stop ourselves from jaywalking across Austin Bluffs illegally.
     In 2015, 9,557 people died as a result of speeding, according to the National Highway Traffic Safety Association. Drivers who speed and consequently run red lights may not be able to stop in time, hitting pedestrians and rushing into oncoming traffic.
    Drivers who speed recklessly make them a danger to themselves and tohers.
     Go the speed limit on Austin Bluffs. Trust us, you will get to campus on time by travelling at 40 mph. Austin Bluffs should not be treated in the same way as I-25.
     When alcohol was involved in auto-pedestrian deaths, 10,265 people died as a result of alcohol-impaired driving, according to the Centers for Disease Control and Prevention.
    At UCCS, the Smart Move UCCS campaign has looked to promote prevention and knowledge about impaired driving. According to surveys from the campaign, 99 percent of UCCS students reported that they had not been charged with a DUI.
    Before operating a vehicle, don't consume alcohol. This should be obvious, but some of us may feel too confident and think we can drive when we cannot.
    For those of us who commonly take Austin Bluffs to UCCS, we may also have seen students crossing the street illegally, jaywalking across the street and over the narrow median to get to the Rec Center, their dorm or other on-campus locations.
    Now, a metal fence is in place across this median to prevent illegal jaywalking from occurring, thanks to Gilbrane Development Company, who built West Edge and included this fence in their 2015 development plans for the apartment complex.
    In an Oct. 10 article published in The Scribe, Marc Pino, chief of police, said that the fence offers a barrier to prevent students from jaywalking.
    This is good news; there seems to be a solution for deterring students from putting their lives in danger by jaywalking across Austin Bluffs.
    This doesn't stop people from trying, though. Members of the Scribe staff have experiences of people crossing Austin Bluffs illegally, often putting themselves and the drivers in danger.
    And for students like Schlagel, who were crossing the street legally and become tragedies at the hands of people who decide to drive recklessly and put others' in danger, what can we do to prevent these events from happening?
   To start, we can educate ourselves on the dangers of reckless driving.
   While the driver who killed Schlagel was not a student, we can still learn from his choices to make the areas surrounding our campus a safer place.
    Speeding, drinking and illegally jaywalking puts others' lives in danger.
    Don't contribute to another tragedy. Let's work together to make UCCS a safe place.