Kaylan Hardin
UCCS began a partnership with Mountain Metro two years ago. As part of this partnership, $5 of each student's Transportation and Safety fees would fund the service, allowing students free access to Mountain Metro busses with a valid student ID. The service permitted UCCS students to travel off campus more easily. But when COVID-19 hit back in March, access has changed.
Students are required to purchase passes to ride the Mountain Metro busses, as of June 15. Despite the change in pass access, the bus routes 9 and 34 still stop at the UCCS campus.
"We still had to pay out our contract for the whole semester remaining last spring, and when summer came around we didn't pay anything because we knew we'd go remote in summer and in fall. When the Fall semester came, hardly any students would be using this service because of remote learning," said Jim Spice, executive director of UCCS Parking and Transportation. "Once COVID ends we will [reapproach] that contract with Mountain Metro."
Spice has indicated that the decision to cease the partnership is not a permanent one.
The decision was sent out via email over the summer, but some students, like junior business major Shannon Root, found out in other ways. Root only discovered that the UCCS student ID would not work after she recently got on the bus.
Root recounts, "After swiping it a couple of times the driver told me it wasn't processing, and I needed to come up with another way to pay." Root was close to a transfer station downtown and was able to buy a ticket with her debit card in enough time to make the same bus.
"I was very embarrassed the day I found out my card was not working and if I'd been trying to board the bus from the regular stop by my house rather than the transfer station, I wouldn't have been able to get on because I typically don't carry cash for safety."
Root wishes the decision to limit student access to public transportation had been made with more student input.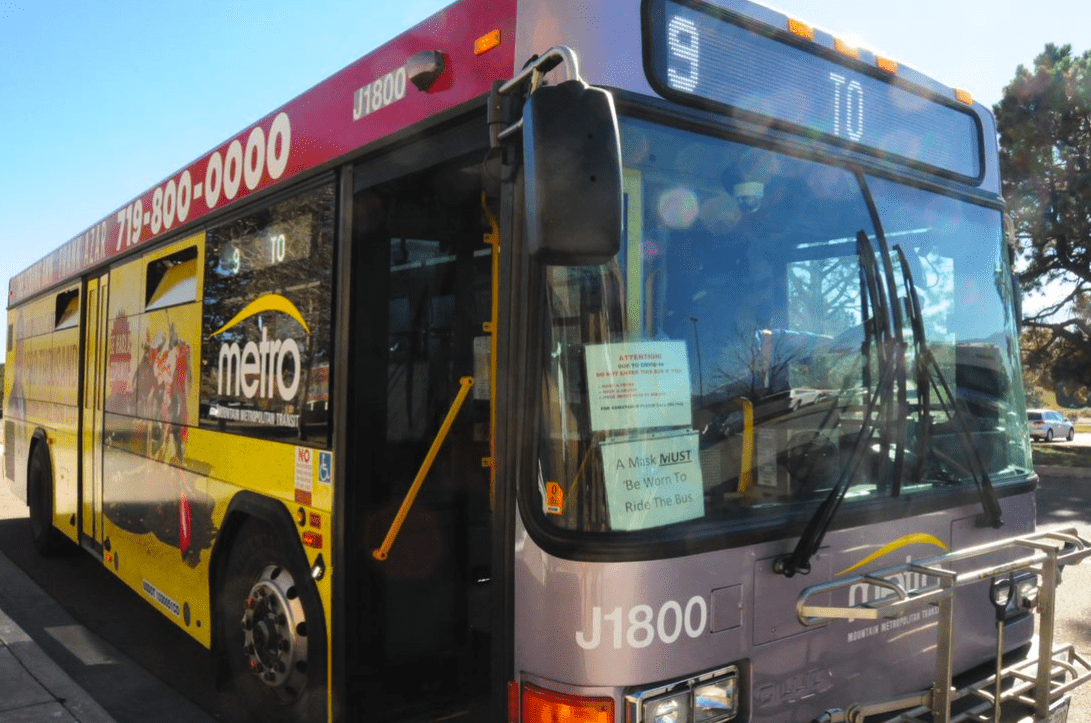 While students may not be taking the bus to campus for in person classes, some students utilize public transport as a way to get around Colorado Springs.
Aaron Bryan, a second-year veteran student working on a bachelor's in computer security, used the bus during his entire first year at UCCS.
Bryan shared just how important having this means of transportation was to him. "My wife and I shared one car, and since she also worked, the bus was my only affordable option," he said.
Bryan also used the bus for non-school related activities, including once helping his wife when their car broke down last winter. "I understand that it's not the most popular option, but at the time it was my only one and I have seen consistent use of the program by other students."
Bryan's situation looks a little different this year as he has been able to save up for a second car, but he says he wishes he could still rely on the Mountain Metro service.
"The bus is still my only backup plan other than flagging down surge priced Ubers which are way too expensive to do consistently. While I only used the bus on an as-needed basis after this or to save fuel usage, having that solid backup lost isn't great," he said.
Junior women's and ethnics studies major Irina Amouzou also found the resource to be very beneficial. Like Bryan, they recently purchased a car, but they understand the possible predicament for other students, as it was not long ago that they used the bus service.
They shared, "I think it's limiting a lot of students that don't have resources. The goal is to keep exposure down. I think the worst thing is that students still need to access resources. I was living on campus for two years. It is isolating and you can't just live off of campus. I think it makes low income students targets and is limiting their resources to other things like food and non-profit centers. You can't sustain off the campus."
Senior Tessa Little expressed that the lack of public transport is frustrating, but she has learned how to adapt. Formerly, the bus was her way of getting to the grocery store and to her internship. "I have had to adjust by asking really close friends to give me rides to the store," she said. "That does not always work in my favor and I completely understand how my friends would feel considering we are still struggling with COVID."
Senior history major Kristy Wilson offered her perspective as well. "Since classes are online and I am not working this semester, it has not affected me as much, though I would probably be able to get around the city easier and possibly not have to rely on others."