As Veterans Day has come and gone for another year this Nov. 11, it is important to highlight some of the resources UCCS offers to veterans, one of these being the Veteran and Military Affairs Office.
The director of the Veteran and Military Affairs Office, Lisa Buckman, has been integral during to making these resources available to students during COVID-19, as many other offices around campus have made significant changes to ensure students' safety.
"Services provided through the Veteran and Military Affairs Department haven't stopped, despite COVID. The McCord-Herbst Student Veteran Center remains open Monday through Friday, 8:00 a.m. until 5:00 p.m. for appointments as we continue to help students with their VA Education Benefits and educational goals," said Buckman via email.
The office is still having some in-person available services, such as access to study areas and computers. "Our lounge area also remains open by appointment for military affiliated students to come in and use our computers and/or study space. For students who don't feel safe coming to campus, we now have a 'chat' feature on our webpage, so they can engage with one of our team members in real time," said Buckman.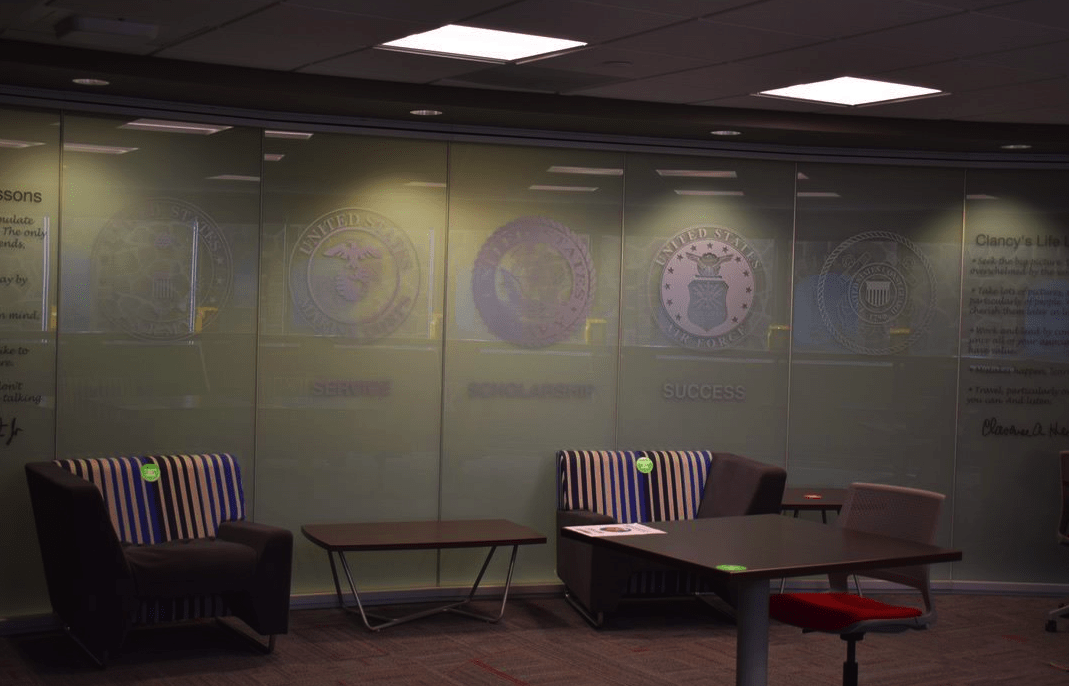 The Veteran and Military Affairs Office is primarily made up of veterans, so students feel supported by the university and are comfortable going through the office if they need any assistance.
Buckman spoke to the numerous ways that the Veteran and Military Affairs Office supports students. "Current Veteran students are supported through a myriad of services in the center," she said. "We have an entire team dedicated to processing VA educational benefits, as well as answering benefits questions. 
There are also community programs that the office still organizes that are still available despite the pandemic.
"We also have several outreach programs to include Books for Battle Buddies where we loan donated schoolbooks out for the semester, Boots to Suits which is a mentoring program for students getting ready to graduate and enter our workforce, the Student Veteran Organization, SALUTE Honor Society, in-center Tutoring and access to seven free counseling sessions through the UCCS Wellness Center," said Buckman.
Even after students graduate from UCCS, the Veteran and Military Affairs Office stays in touch with their alumni students.
"For our Veteran alumni, we stay connected through our monthly newsletter and often reach out to them to be mentors in our Boots to Suits Program," said Buckman.
With so many programs supporting veterans, it is obvious why UCCS has been ranked fifth in most military-friendly schools in 2020-2021, according to VIQTORY, a military marketing company.
Though COVID-19 has forced University offices to change events to a virtual format or cancel them altogether, Buckman talked about the events that are usually held through the Office.
"Typically, throughout the year, we host several events, such as our Annual Veterans Day luncheon, Boots to Suits Breakfast, SALUTE Honor Society Induction Ceremony, Back to School Social and small get togethers throughout the year to keep our students engaged with one another," said Buckman.
More information on these events can be found on the Veteran and Military Affairs website.
"We are proud of the connection we have with our Military affiliated students," Buckman wrote. "They know they can come into our center and receive the best service from our team, whether it's helping them process their benefits, picking up a book loan, or just seeking our advice on benefits."
Although COVID-19 has changed many things this year, the Veteran and Military Affairs Office is still wanting to help students in any way they can.