A new year brings a new semester, and with a new semester comes new students. In order to make campus feel like home to newcomers, Student Life will be hosting the colder counterpart to Disorientation Week in January 2022: Winter Welcome Week.
Winter Welcome Week is an annual week-long experience for students to connect them to Student Life and generate excitement about being on campus. SGA Marketing Coordinator Lana Khoshnaw describes it as being "several events in the span of a week."
The events will last Jan. 18-22, 2022, starting on a Tuesday and ending on Saturday because of Martin Luther King, Jr. Day.
On Tuesday, Jan. 18, doughnuts will be offered to students in the Student Life Center. On Wednesday, Jan. 19, the Library will host the "Silent Library" games, which Khoshnaw explained is a series of "games and activities done silently" with the promise of a prize for those who stay quiet the whole time.
     On Thursday, Jan. 20, there will be an ice-skating rink on top of Alpine Field, with free skating and food for UCCS students. Friday night on Jan. 21 features Blackout Night, a basketball game at Gallogly Recreation Center, which welcomes students to cheer on the athletes.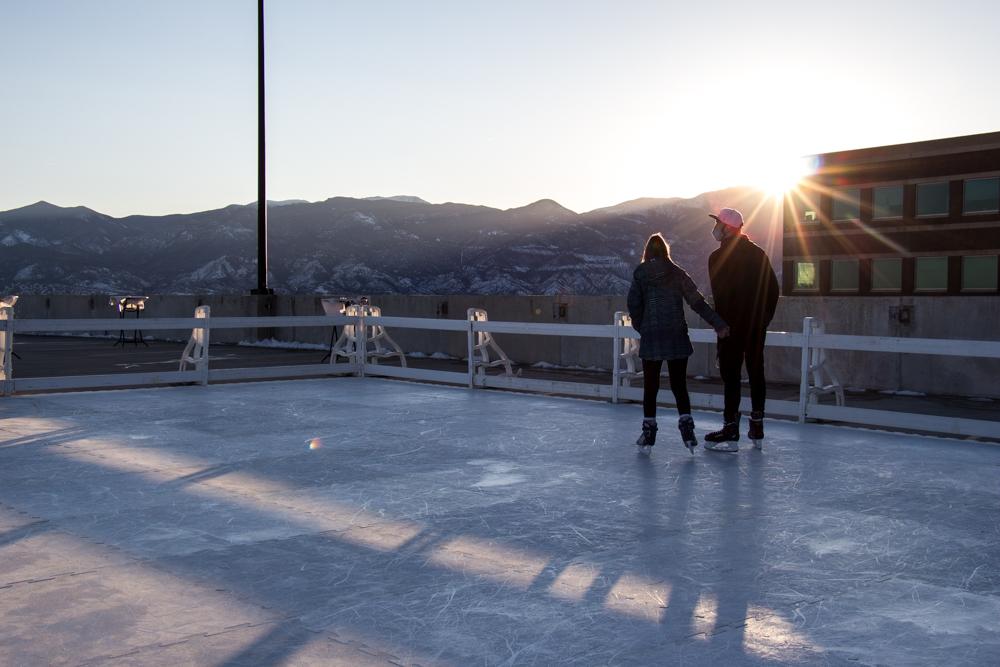 On Saturday, Jan. 22, the campus hosts the UCCS Lead Gamechanger session, a seminar for student leaders. The festivities conclude with the Decade Dance on Saturday night, which, according to Khoshnaw, will welcome students in retro outfits and play various "throwback hits."
Khoshnaw explained that Winter Welcome Week is one of two event-packed weeks held each year on campus, with the other one being Disorientation Week at the beginning of the fall semester.
She said that in the past, she had a difficult time finding "a reason to be on campus, and stay on campus," and that Winter Welcome Week is meant to provide those reasons for staying on campus by connecting students and helping them to see UCCS as more than just school.
"The overall goal for this is to know that campus has things offered for students to make you want to be here, besides just your classes," she said. "We [SGA] represent the students, so why not do it in a fun way where we all get to meet each other?"
This year, she said, on-campus activities are especially important after the pandemic. Transfer students and new freshmen are coming to campus for the first time, but plenty of other students missed out on in-person connections when they started at UCCS because of COVID-19.
Khoshnaw specifically recommended participating in the events to "everyone who hasn't experienced something college-like," naming "students that have come in within the COVID year" in particular.
"I think it's important that we kind of put [the virus] behind us and move forward, and this is one way to do that: getting back on campus and involved with things that we have physically rather than online," she said.
Although Khoshnaw is optimistic about the state of the virus come January, she maintains that the indoor events will require students to wear masks and take careful note of attendees for contact tracing. "We'll play it by ear as it gets closer," she said.
Overall, the week is packed with exciting activities, and participating would be a wonderful way for new students to see that UCCS is not just a school; it's a community.