22 October 2019
Devon Williams
UCCS' cross country teams ran their last conference race when they hosted the 2019 UCCS Cross Country Open in Monument Valley Park on Oct. 12.
The races did not count team scores but allowed individual runners to improve their scores to better their chances of placing in regional and national races.
"For our top group, it was a tune up race before the championship season," said women's cross-country head coach Corey Kubatzky.
Layla Almasri, redshirt sophomore, finished No. 2 overall with an 18:19.1 time, only three seconds behind the individual winner Lauren Offerman, who ran unattached from Colorado State University.
Kubatzky said that Almasri has seen a lot of improvement while at UCCS.
"She has worked really hard to put herself in the position to finish really high up in the national meets this year," said Kubatzky.
Senior Kayla Wooten, senior Marissa Kuik, senior Katie Novak, and sophomore Maia Austin finished in the top 20 from UCCS.
UCCS' men's cross country placed lower in the 8K race. Running unattached, freshman Gavin Harden placed the best at No. 50. Redshirt senior Ben Patzer placed No. 54, freshman John Ames, running unattached placed No. 60, redshirt freshman Cole Dunton placed No. 62, and redshirt sophomore Troy Cournoyer finished No. 67.
Kubatzsky said that the women's team has worked hard and improved a lot in different ways.
"They have done all the work to be in a position to do something special during the second half of the season," said Kubatzky.
The teams will continue to train over the next two weeks for the 2019 RMAC Championship race in Grand Junction on Oct. 26.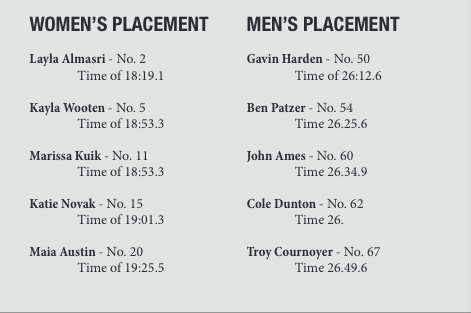 The cross-country teams have flipped spots in week 5 of the United States Track & Field Cross Country Coaches (USTFCCCA) Division II national rankings. The women's team have up one position to No. 15 with 90 points, the men's team has moved to No. 16 with 82 points.
The women's cross-country team is in a position to get a spot in the national championship if they finish No. 4 or No. 5 at the regional championship, according to Kubatzky. Teams are not allowed to send more than seven student-athletes to regional or national championships.
Kubatzky said that if they run like the team they are capable of they will get good results.