11 September 2018
Derek Lee
    The fall semester marks the beginning of many things. One of those things is fall sports, and more notably, women's golf.
    Last season, the team won the RMAC Championships and finished No. 8 in the NCAA West Region Championships. The focus may be on finishing top once again in the RMAC Championships, but head coach Sadie Farnsworth maintains that the team is focusing on improving, not just winning.
    "We really teach the girls not to have expectations; I don't really have expectations either," said Farnsworth. "What we do is we really focus on just trying to put our best rounds of golf together and then seeing how we compare. They don't go in expecting to win a tournament."
    After finishing up their first invitational last week in Pueblo, the team is now preparing for their first RMAC event next week in Grand Junction.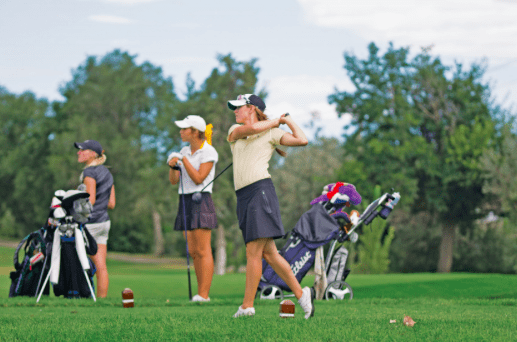 "Last year we won the Pueblo event," said Farnsworth. "We talked about making sure as we're preparing [that] we're not expecting to win, that we're just going to go out there and try our hardest and do our best and be the most positive we can and see if we can come out on top."
    "Same thing goes for preparing for the RMAC event, we're going to take what we learned in Pueblo and we're going to make practices to help improve on the things there that we need help with and we're going to bring that back into practice and just prepare for that tournament just like we would any tournament," says Farnsworth.
    Farnsworth says that the difference between having a one week break as opposed to a two week break between tournaments is not substantial.
    "We really try to focus just preparing for a specific tournament and then we go see how we do there and take what we learned and get better at that and then we go prepare for the next tournament so as we go along it just builds and we get better and better," says Farnsworth.
    Farnsworth also continued to press the point that she as well as the team do not hold expectations for themselves.
    "The hope is to win the RMAC Championship again, the hope is to win the RMAC event in the fall…but again, we don't have expectations, we don't know how we compare until we go out and give it our all and do our best," says Farnsworth. "We'll see what the other teams bring to the table and we'll just do our best."
    Although the team lost two golfers to graduation this past year, Farnsworth is confident in the ability of her team, especially her lone senior golfer, Megan Vernon, as well as her lone freshman golfer, Dakotah Kreil.
    "[Megan's] a great leader, she's learning and growing as well, says Farnsworth. "I feel like she has the ability to have a great season. We also have a freshman and she's in our Top 5 so my expectation for the team is that they are going to play well."
    Keeping the team positive is important, Farnsworth says. Each golfer is given a strategy to use in tournament play in case something goes awry, or a golfer gets uncomfortable with anything.
    Each golfer also her own notebook to take notes with and many of the golfers who have been on the team longer even know what Farnsworth would tell them in certain situations.
    "They're all adapting to our mental plan very, very well and the quicker they accept it and the quicker they start to grow on their own is when we start to see the success that we've had in the past."
    "We get better as we go along because we learn and grow each tournament," said Farnworth. "We get more experience."