Colorado Springs is home to several speakeasy themed bars, inspired by the 1920s when they were popular due to prohibition. They are known for being secretive, so you must know where they are hidden to enjoy the fun.
Allusion Cocktail Bar is a speakeasy with rotating themes on Tejon Street. The establishment was started up in 2019 and has since seen 13 different concepts.
According to the staff, the theme changes about every three months. They opened in 2019 with "Game of Thrones" and are currently hosting a "Lord of the Rings" inspired design. You can find the past and current schedules on their website.
The atmosphere depends on the theme but is always immersive. The servers are attentive and friendly with plenty of knowledge on drinks to help someone make a choice. The bar is stocked and surrounded by several lights. At the front, a big screen television will play films or media from the current theme, such as "Return of the King."
Allusion's drinks are served in large mugs, glass fish cups and more which bring more variety to how they are presented.
A few drinks you can order include:
So Juicy Sweet: contains raspberry vodka, strawberry, lemon, peach liqueur and vanilla
You Shall Not Pass: contains vodka, aquavit, white rum tequila, Licor 43, Montenegro, amaretto, lemon and root beer
Army of the Dead: contains aquavit, limoncello, Grand Marnier and Averna
It Comes in Pints?: contains pumpkin, cognac, apricot, allspice, whipped cream, amber ale and lemon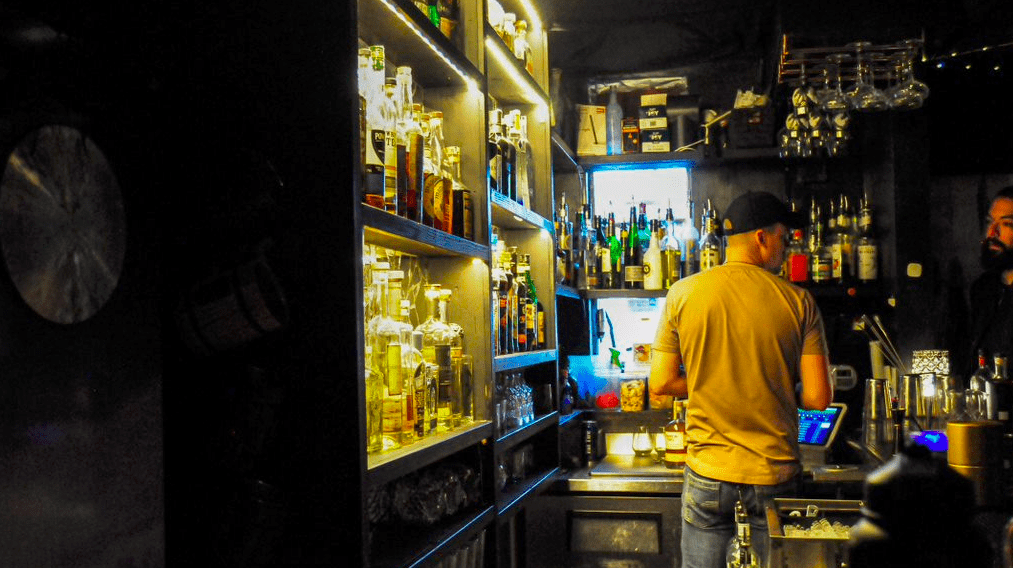 Students over the age of 21 will be able to find this hidden location in the back of Rooster's House of Ramen. There are no signs for Allusion but if you walk to the left and into the back there is a corridor that will eventually lead you to a large door. Sometimes this door is closed and you may need to knock. Other times, it will already be open, revealing the secret bar within.
Because the space is rather small, you will want to make a reservation. They have three tables and a six seater bar.
Allusion is open from 5 p.m. to 1 a.m. on Fridays and Saturdays, open 5 p.m. to midnight on Sundays, Tuesdays, Wednesdays and Thursdays and closed on Mondays. There is no phone number available to call, which is said to be part of the fun in keeping the place a "secret."
Some people have to know somebody to hear about the bar while others will be able to place a reservation online. Online reservations allow you to select the amount of people in your party and how long you would like to stay.
Attendance varies by night based on the popularity of the theme. At the moment, staff expect about six people every half hour. During the last theme, "Princesses and Villains," Allusion was full nearly every night, though this also could depend on the season, day of the week and more.
If you do stop by, the bartenders will allow you to take pictures, unlike most speakeasies. However they prefer not to advertise to keep the bar on a "need-to-know" basis. While they are considered a popular pop-up bar in the Springs, they do their best to maintain secrecy.
If you are looking for an enjoyable and somewhat nerdy night out with friends, then Allusion Cocktail Bar may be the perfect setting for you.