2 October 2018
Cambrea Hall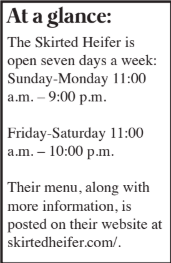 The Skirted Heifer is a one of a kind burger joint in Colorado Springs. They offer a variety of delicious burgers made with grass-fed beef and homemade sauces and condiments. Along with burgers, they serve specially seasoned fries and tasty frozen custards. The Skirted Heifer is a popular spot, and lucky for their burger lovers, they're opening up a second location in northeast Colorado Springs.
    The original Skirted Heifer, owned by the Megyeri family, first opened on 204 North Tejon St. in 2014. Owners Kevin and Suzette Megyeri already had a well-established Italian restaurant called Bambinos, but they wanted to try their hand at running a small burger joint.
    The Skirted Heifer derives its name from the restaurant's specialty burger, a grass-fed burger covered in an extra layer of melted cheese that resembles a skirt when placed on a bun.
    The restaurant prides itself for its all natural beef. Their meat, deemed "Sangres Best Beef," is from Music Meadows Ranch in Westcliffe, Colorado. The restaurant also supports local farmers, egg farmers and bakers. All their sauces and condiments are completely homemade. The Skirted Heifer also serves seasoned and freshly cut Belgian and sweet potato fries, and tasty homemade frozen custards.
    The moment you walk into the restaurant, you are met with mouthwatering smells and friendly employees ready to serve you. Plus, the prices are very affordable for college students, and the location is less than 10 miles away from campus.
    Since its opening, the original Skirted Heifer has gained national attention for its excellent food quality and service.
    In 2015, the restaurant was featured on the The Food Network's, "Diners, Drive-Ins and Dives," a popular show that spotlights classic restaurants around the country.
    The Skirted Heifer's success has allowed the Megyeri family the opportunity to open up a second location off of Powers and Dublin, near Fuzzy's Taco Shop.
    "We've gotten a super positive response from the city. We wanted to expand and reach a new target market. Some people don't like driving downtown, where our original is located. In opening up a second location, we're able to give more people a chance to go to our restaurant," said the Megyeri's 25-year-old son, Kevin Megyeri, who will own and operate the second Skirted Heifer.
    "I'm excited to be part of the legacy of the business," he stated.  
    According to the family, the second Skirted Heifer menu will be identical to the original with few changes to avoid competition in the neighborhood.
    "It's the same family-run business. In addition to the regular menu, I'm adding a new burger and beer. Also, I'm replacing the frozen custard with homemade ice cream sandwiches," explained Kevin Megyeri.
    The second Skirted Heifer is set to open on February 1, 2019.  
    The Skirted Heifer is a top choice burger joint in Colorado Springs. The opening of their second location is worth going to, so grab a couple friends and plan a luncheon – either to try their speciality burger or just to see what all the rave is about.