September 05, 2016
Kyle Guthrie
     Missing breakfast can minimize the nutrition and energy you receive eating in the morning, especially when you have just finished burning off 400-700 calories.
     The Lodge, an on-campus dining hall, extended their breakfast hours an extra 30 minutes on Aug. 29 to ensure that student athletes are able to get breakfast following their morning practice.
     Athletic teams found it difficult to get from morning practice to The Lodge in time for the previous breakfast hours, 7-9 a.m. and often had to settle for boxes of cereal and leftover fruit.
     Mark Hayes, director of dining and hospitality services, explained that the department was unaware of this problem until it was brought to his attention by The Scribe student newspaper.
     The dining hall never received complaints from coaches or athletes until the issue was brought to their attention, according to Hayes.
     "When this came up, I figured the best course of action would be to talk to some coaches…I contacted two cross-country coaches, and they indicated that practice goes to 8:45 in the morning," said Hayes.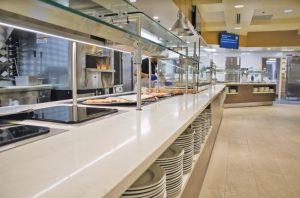 Hayes explained that the best way to alleviate the problem was to simply extend the breakfast hours in order to accommodate athlete needs.
     "The moral of the story is, 'If nobody speaks up or communicates this, nothing will happen.' It's amazing what you can do when you hear a complaint. Sometimes you get exactly what you ask for," said Hayes.
     "We will always have a conversation for people who speak up."
     Jared Verner, associate athletic director for sports information, explained that this is not the first time Hayes and the Department of Dining and Hospitality have worked to accommodate student athletes.
     "Dining and Hospitality services, specifically (Hayes), have always been great to work with, so it's not like this was something that we had to go back to the drawing board to figure out," said Verner.
     "They have reached out to us when there were things like dietary and nutrition needs for athletes specifically."
     The change in hours was simple since employees are already there to prepare for lunch. The extended hours will also benefit students who are not athletes, according to Hayes.
     "…other students who might just be sleeping in until 9 (a.m.) may want a meal. It gives them an extra half an hour to, so it should positively benefit everyone," said Hayes. Updated information on The Lodge's hours can be found at uccs.edu/diningservices/venues/the-lodge.