All things on campus have changed, and athletics is no exception. The department has prepared and continues to adjust itself to changes in finances, schedules and practices, adding several parameters in pursuit of the safety of athletes and the UCCS community.
Executive Director of Athletics Nathan Gibson explained via email how athletics funds have changed, including cuts and furloughs. "We have made significant cuts to our budget as we are reliant on the same enrollment factors that set our budget," Gibson said. "We have dramatically reduced our operating and travel budget for this year, along with some coaches and staff taking furloughs for budget savings.
"We have also frozen multiple open positions for budget savings. We believe these measures will allow us to meet budget, as well as allow us to have full seasons in all our sports. We will just do so on a much tighter budget."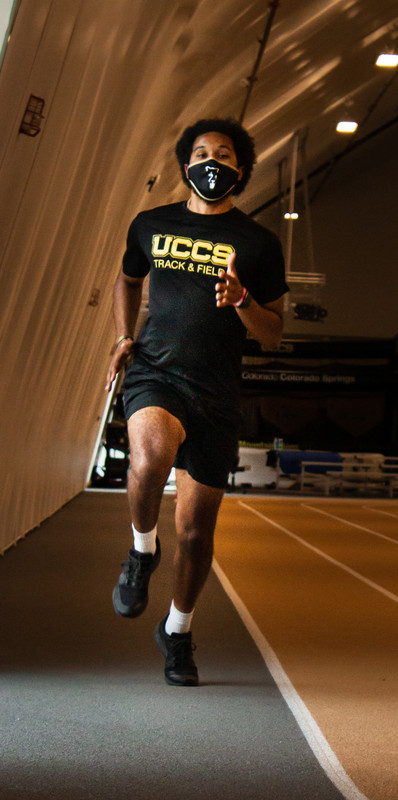 As far as new schedules, the only programs which were altered and moved to the Spring semester are soccer and volleyball, according to Gibson.
"The decision for soccer and volleyball came from health and safety within the NCAA and RMAC to move those higher risk sports to the Spring."
Gibson added that all other sports remain on track, including cross country, which has already started off with a successful season.
Athletics upholds health and safety as the number one priority. As a result, they have developed protocols and mitigation strategies that allow practices to resume with as little risk as possible, many of which are far more conservative than NCAA guidelines, Gibson explained. Practices take place outside when possible, masks are worn, social distancing is maintained and daily symptom checks take place, among other protocols.
All athletes are required to take a separate symptom check from the regular test each student takes and face penalties if they fail to comply with completing the test.
"The daily symptom check is emailed to all student athletes each morning and this needs to be completed prior to coming to campus or by 10 a.m. each day," Gibson wrote. "This is a critical step for campus and athletics, as campus also requires a daily symptom check, and no one should come to campus prior to completing."
He continued, "I applaud our student athletes for taking this seriously as I believe it is a critical step to making sure our student athletes and campus remain safe. The penalty is that we will send student athletes home if they have not completed [the symptom check]."
Before attending sports meets or games, Gibson is advising students to check the athletics website at GoMountainLions.com for more information specific to the sports function. Students, faculty and community members have already attended the first cross country meet that took place on September 4.
"I would recommend that all stay up to date and check our website for more information, as we will have health and safety measures for all events, so that they know what to expect," Gibson said.
Games are also available to view on the website for those who do not wish to or are not able to attend the functions in-person.
Persevering through the curveballs thrown at them, athletics is prepared more than ever for this season and beyond, according to Gibson. "Spring can and should be an amazing semester for athletics! We will have more opportunities and exciting events than we have ever had," he wrote. "I remain positive and hopeful that we will be able to pull this all together and planning efforts continue throughout the Fall."
He also expressed pride in the way UCCS has taken a conservative and realistic approach to keeping athletics safe, and the success of these measures thus far.
When asked what the most difficult thing has been with respect to new preparations in the face of COVID, Gibson responded, "I would say, simply, the uncertainty and how quickly things can change. For example, we have spent countless hours planning for something, only to have the circumstances or guidelines change and then we start back over from square one.
"It has been a 'roller-coaster' at times, but ultimately worth the challenge as this requires us to step up, learn on the fly and set the tone so that we can be safe along with resume what we love."
Gibson expressed his gratitude towards the continual support of the athletics by the UCCS community. "We will get through this and it will take all of us coming together and supporting one another."